Analyses
Displacement & Migration
News
#AfricansInUkraine: Stranded Nigerians, Other Africans Continue To Face Multi-layered Horrors
Since the invasion of Ukraine by Russia, Nigerians, among others, have continued to experience hardship in several facets as they attempt to flee to safety.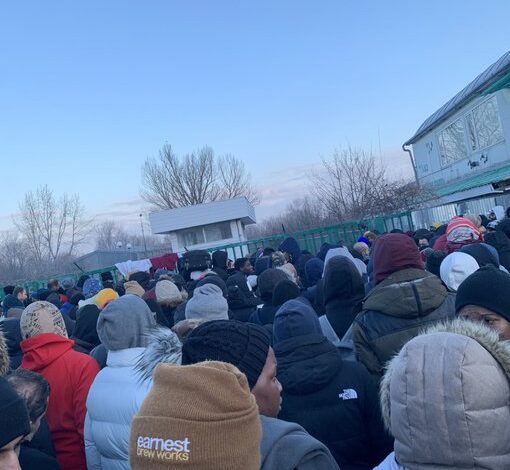 When the wail of an air raid siren sounded overnight on Thursday, Feb. 24, 2022, Jessica Orakpo jolted to wakefulness and wondered if it was all a nightmare or a reality setup: the distant dread of a long-anticipated Russian invasion coming to life.
It was both.
Car horns blared with the same velocity, as suitcases hurled along the street already clogged by traffic. "There was mass panic and hysteria," the final-year medical student said during a discussion held on Twitter Spaces on Friday, Feb. 25, 2022, attended by a HumAngle reporter.
In Ternopil, a city in Western Ukraine where she resides, there is no bombing yet, but slowly, the city has transformed into a war zone in a short period.
As though to compound her mounting anxiety, Jessica's mobile phone buzzed with calls and texts from members of the Nigerian Students Union which she heads, asking for how to escape the war.
For Jessica, it was clear the Nigerian embassy had no evacuation plans weeks before and even after the invasion.
Coming together with presidents of the Nigerian Student Unions in other regions, she had tried to pressure the Nigerian embassy on evacuation, "but they didn't do anything and our schools also were turning deaf ears."
While the United States (U.S.) and the United Kingdom (U.K.) embassies had hinted of an imminent invasion and reached out to schools to allow their citizens to utilise virtual tools, their Nigerian counterparts did not yield the appeal for a similar gesture.
From the onset, the Nigerian embassy asked its nationals to "remain calm but be very vigilant and be responsible for their personal security and safety."
The government confirmed on Sunday, Feb. 27, 2022, that over 4,000 Nigerians are stranded with little to no chance at safe passage or crossing into Poland, a neighbouring country. This was following various videos surfacing on social media showing that Nigerians and other Africans were being refused entry into trains and buses conveying people to the border.
Reportedly, in an earlier statement released through the Chairman/Chief Executive Officer of the Nigerians in Diaspora Commission (NIDCOM), Abike Dabiri-Erewa, the government said that there are eight borders surrounding Ukraine that Nigerians may use to exit the country. However, four were recommended and these were Hrebenne – Rava Ruska; Korczowa – Krakovets; Medyka – Shehyni; and Budomierz – Hurszew.
However, it seems that the best it can do now, given the breakdown of security that has already occurred, is to continue to appeal to Ukrainian authorities to grant safe passage to stranded Nigerians, especially those at the Polish border.
Jessica also said the diplomatic gap had made schools insist on continuing the session in-person despite the threat of war.
"They [school management] keep standing on the ground that Ternopil is safe. Had it not been this way, we would've salvaged the situation at the beginning when we had time to save ourselves," she said.
"We know that there are so many Nigerians in Ukraine. We know that if the worst-case scenario pops up, Nigeria cannot evacuate."
With flights grounded and nowhere to turn, Jessica decided to leave Ukraine on foot. She packed a bag and ran to the nearest underground metro station to catch a train to Lviv, another Western Ukraine city. From there, she would board a bus to the border into Poland or Romania from where she can return to Nigeria.
It was far more complicated than she had thought. There was no bus available for people of African descent, she was told. So, she trekked for 12 hours.
It gets grimmer…
Like Jessica, Nze, another Nigerian, shared a grim experience. Just a few days before the crisis started, he was sharing his thoughts on music and life through his Twitter account. Since the invasion, the account has become one of the most followed sources through which the harrowing experiences of Nigerians and Africans fleeing the crisis can be observed.
On the day of the invasion, one of his tweets read, "I don't want to panic. It does not solve anything. Panicking won't stop the bomb from exploding so I see no gain in panicking." Yet, as he gives more updates, one can read the seriousness of the situation and watch the harrows unfold.
Like other Africans stranded, he tried to make his way back home and tweeted for help. "If you have anyone who can get me to the border, I will appreciate it. I am ready to pay." He had to take a car halfway and continue the rest of the way to the Poland border on foot. HumAngle gathers that most people, stranded in Ukraine, had to trek a long stretch, to neighbouring borders. Some journeys lasted a whole day, on foot.
What should have been a relief for Nze quickly took a sad turn when he was met with racism at the border. "Immediately, the media guys with cameras left, they start[ed] pushing us Africans to go back even when we have formed a queue like we are goats to be rid of," he tweeted. 
Stopped by racism
Nze's account of racism experienced at the border is a shared reality for several Africans in the same situation. There have been several reports of Ukrainians blocking Africans from getting on trains and discrimination being meted out to black people who are struggling to find safety in neighbouring countries. There are also videos suggesting the maltreatment of black people.
In response, the Nigerian government has expressed disappointment at ongoing reports of maltreatment of some of its citizens during the crisis. In a statement on Monday, Feb. 28, 2022, the government urged customs authorities in Ukraine and neighbouring countries to treat its citizens "with dignity."
However, Polish authorities have denied racial discrimination claims and said that anyone from any nationality is permitted to cross.
The development has triggered a wave of resentment among Africans stranded in Ukraine and at home who believed they were yet again bearing the brunt of white supremacy, prompting a hashtag "#AfricansInUkraine" on Twitter.
Many volunteer groups and individuals, especially Nigerians living in the countries bordering Ukraine such as Poland have taken to social media to offer help in forms of accommodation to those who make it through the border. Dissemination of information regarding this has been through social media, especially Twitter.
"Black Africans are being treated with racism and contempt in Ukraine and Poland. The West cannot ask African nations to stand in solidarity with them if they cannot display basic respect for us even in a time of war. Ignored in a pandemic and left to die in war?!! UNACCEPTABLE," Dr Ayoade Alakija, a special envoy at the World Health Organisation, said on Twitter.
The African Union also issued a statement on the issue, asking for the fair treatment of Africans.
Some are still stuck
A representative from the Nigerian Students Association in Poland who doesn't want her name mentioned says, asides from Nigerians, "lots of other African boys have been left to languish and stranded at the Polish border in Medyka."
Her brother is part of the group stranded at the border.
"They can't go out and they can't come inside. The military men keep pushing them out and saying only women and children are allowed to enter the queue for their passport stamp and then they try to go back so that they can go back to Ukraine to the city at least to find out if there are other countries they can go to and then the military men are not also allowing them to go outside," she said.
"They are even stuck there for four days now, starving and freezing in the cold winter. There's nowhere to sit. They've been standing for four whole days. They don't know what to do. They claim that no help is even coming because they don't know what to do. Most of their phones are dead. Someone just found a way to charge his phone and that was how he was able to get this information to me."
What is Nigeria currently doing?
In an earlier statement on Thursday, Feb. 24, the Country Representative of Ukrainian universities in Nigeria, Dr Cliff Ogbeide, said over 12,000 Nigerians are currently studying in Ukrainian universities.
Meanwhile, The Federal Government has announced that it will evacuate stranded Nigerians from Ukraine on Wednesday. The Minister of Foreign Affairs, Geoffrey Onyeama, made this known, on Monday, Feb. 28, 2022, during an appearance before Speaker Femi Gbajabiamila, adding that the government has concluded plans to air-lift the first batch of Nigerians on Wednesday.
The Speaker said the House of Representatives would give every needed support to the Ministry to ensure successful evacuation of Nigerians stranded from Ukraine.
Onyeama explained that the evacuation earlier planned for Monday, Feb. 28 was rescheduled for Wednesday, March 2, to enable the ministry, the House, and the Nigerian foreign missions in Ukraine, Poland, and Russia to complete the formalities of moving Nigerians from Ukraine to safe borders with neighbouring countries.
Onyeama said the ministry, in conjunction with the missions, had completed formalities for Nigerians to move to safe border points from where they would be transported in buses to the airports in neighbouring countries.
He listed Poland, Romania, Slovakia, Hungary, and even Russia, among the countries to be used as exit points.
---
Support Our Journalism
There are millions of ordinary people affected by conflict in Africa whose stories are missing in the mainstream media. HumAngle is determined to tell those challenging and under-reported stories, hoping that the people impacted by these conflicts will find the safety and security they deserve.
To ensure that we continue to provide public service coverage, we have a small favour to ask you. We want you to be part of our journalistic endeavour by contributing a token to us.
Your donation will further promote a robust, free, and independent media.
Donate Here