Displacement & Migration
Features
African Migrants Dream Of America, But The Road Is Strewn With Corpses
The journey through South and Central America to the US border is long and arduous. Thousands of people who try it are missing, presumed dead. But for some Africans, the race to reach a new life is still on.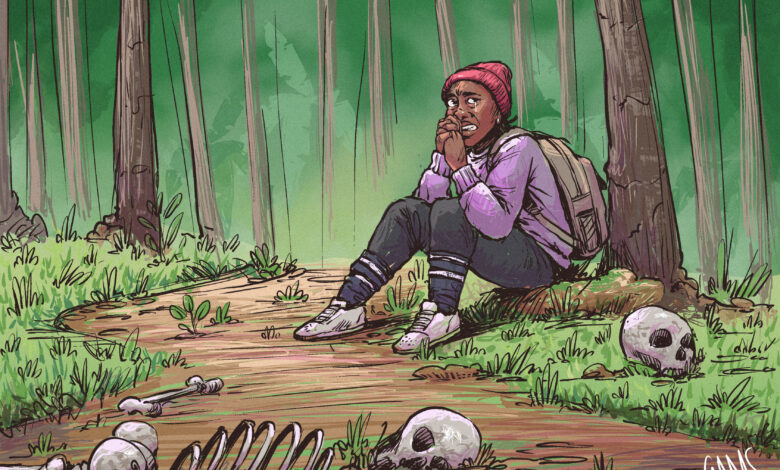 Lost on a jungle trail, all on her own, Aliah Atebo had been left behind by her travelling companions, a group of migrants driven forward by their desire to get to the United States.
All around her were dead bodies; people who had set out on the journey, just like her, but had failed.
Would pursuing her desire to live in the US mean she would become one of them? Would her unidentified body remain forever missing on a remote Central American Jungle path? Her thoughts went to her three children she had left behind in Cameroon.
She sat down and began to weep.
The desire to seek greener pastures has pushed many Africans to take huge risks to leave their countries.
Africans, especially those from Cameroon, are increasingly showing up on the southern border of the US.
Japa
There were approximately 2.1 million Sub-Saharan African immigrants living in the United States in 2019, according to the US census. That's about five per cent of the total foreign-born population of 44.9 million.
The US Census Bureau says the total foreign-born Black population is forecast to more than double by 2060, to 9.5 million.
A common route for Africans to japa or "run" to the US, is to get a place at a university, study there and then remain in the country, either by legally extending their visa or illegally, by disappearing into the grey economy.
Anyone trying to fly directly into most countries without a proper visa will likely be turned away before they get on the plane.
That leaves only one real route for many African migrants trying to come to the US; fly into South America and make the arduous journey north through Central America to the United States' southern border with Mexico.
'Encounters'
The true figure of how many migrants attempt to cross the border can only be estimated, but an idea of how many try can be gained by looking at the number of people apprehended by Mexican authorities and the US Border Control.
These are called "encounters" in the statistics. The US Customs and Border Protection agency records an encounter when a migrant is taken into custody in the US, either to await adjudication, or is apprehended at the border and immediately expelled.
The number of people discovered trying to cross the border fluctuates through the year, and the total increases or decreases depending on world events, or new developments in US immigration policy.
In 2022, as many as 2.4 million people were "encountered" by border control agents.
Compared to the number of people trying to get into the US from countries like Venezuela, Honduras, and Guatemala, the number of African migrants is small.
In 2019, the number of Africans apprehended across all the US's border crossings peaked at a little over 5,000, according to figures collected by the Migration Policy Institute. For perspective, 977,500 encounters were recorded at the southern border alone in that financial year.
In 2020 the number of Africans encountered crossing the southern border had dropped to 1,000, the Migration Policy Institute says. This was probably due in part to the Covid-19 pandemic.
Cameroonian contribution
But migrants from Africa are increasingly part of the illegal immigration picture, the Customs and Border Protection says.
The Mexican authorities registered somewhere between 1,600 and 1,700 more African migrants encountered in 2019 than did the US border control. This suggests of the many hundreds who were discovered in Mexico, but who did not show up in the US figures, at least some could have been smuggled by "coyotes" over the dangerous final border crossing undetected.
In one instance in June 2019, the CBP found a group of 37 people from central Africa, families with young children, who had made their way across the Rio Grande into Texas.
Cameroon is making an outsized contribution to these figures. The conflict in the English-speaking part of the country wears on. Already, over 700,000 have been displaced from the Northwest and Southwest provinces since 2016.
Of the 5,000 Africans who were apprehended at the border by the US in 2019, nearly half were from Cameroon. In Mexico, where they found a third again the number of migrants, half of that larger number were from Cameroon.
The Darien Gap
The journey they make is incredibly hard. There have been many reports of deaths and disappearances.
Crossing the continent from south to north means trekking through a part of the world infamous for being "impassable".
The Darien national park is a rainforest that covers the Panama isthmus from the border with Colombia. Engineers couldn't drive the Pan-American Highway through the thick, swampy, rugged, jungle creating a "gap" in the intercontinental road.
Migrants travelling north must go through the Darien Gap, where engineers and explorers have often failed. It is a place where migrants fall foul of criminal gangs hiding in the wilderness, or flash floods that could wipe them out at a stroke.
Migrants die from dehydration, fatal falls and drowning, as well as from violent attacks and kidnappings by criminal gangs, according to Missing Migrants, a research group. Over 7,700 people are recorded to have gone missing since 2014, they say.
Turn an ankle on the treacherous route and it could be all over.
Left to die
One man from Cameroon was even abandoned by his family and left to die when it became too difficult for him to continue, it was reported.
Other routes attempting to bypass the hard jungle trek have their own risks. The BBC recently reported that over 600 Cameroonians were stranded on a Caribbean island the migrants had never heard of.
The stories don't deter Cameroonian Nyinka Evaristus. After selling all his property for 3 million FCFA (around $5,000), he plans to embark on the journey despite the odds.
He is currently in Ghana, a starting point recommended by a travel agent. He has seen many of his friends succeed on the journey and believes he will also achieve his dream.
"Many of my friends are now in the US and their lives have changed. There's nothing I can't do to overcome this journey," he said.
Body and soul
His enthusiasm is in sharp contrast to fellow Cameroonian Aliah Atebo's experience.
She is one of the more than 5,000 African migrants US border agents "encountered" on the southern border in 2019.
She survived the journey, but only just, she says.
"At one point I felt my body was gone and only my soul continued the journey. I trekked through the jungle alone because I couldn't keep up with the group pace. I sat down beside skeletons of former migrants who died on the journey and cried," said Aliah.
Aliah left her home in Northwest Cameroon after her workplace was attacked by terrorists. She was specifically targeted along with her employer, picked out by a ruthless gang of criminals who had taken the opportunity presented by the conflict to merge into the ranks of the armed separatists.
After consulting with family and friends, she embarked on the journey.
"They put me in contact with some man whom I did not know," Aliah told HumAngle. "When I spoke to the person, he actually told me how I could leave the country. I didn't really have much of an option than to believe him".
Starting in Cameroon, Aliah went through 16 countries to get to the border of the United States, a journey of about 16,000 km over land and sea. She spent around 4 million FCFA ($6,600) on the 15-month voyage.
Pain
What is more, she did this journey, a large part of it on foot, while suffering bouts of debilitating pain in her spine, hip, and leg.
From Cameroon, she travelled by plane to Cotonou, then by bus from Cotonou to Accra. Then she flew from Accra to South Africa, and from South Africa to Brazil.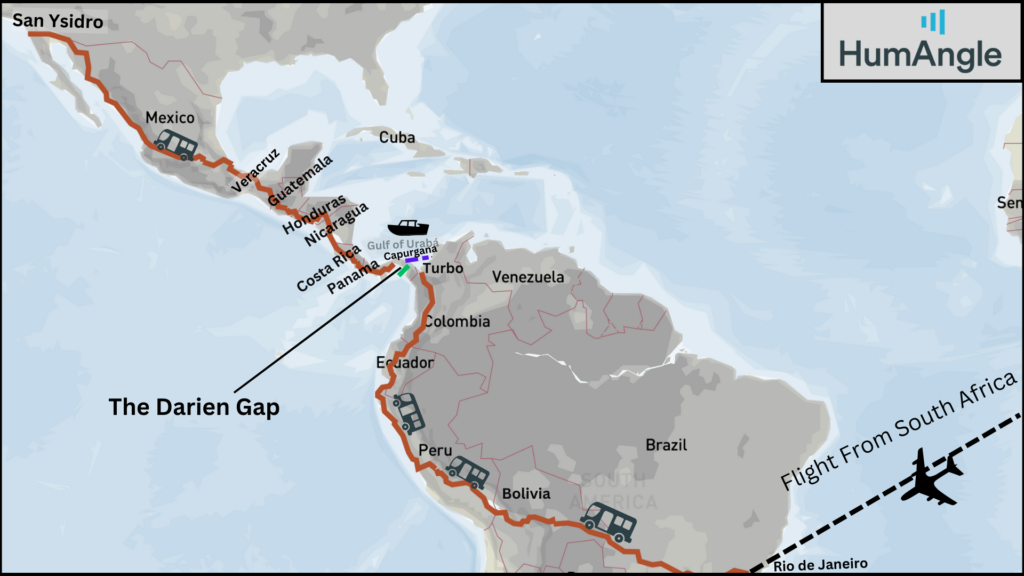 From Brazil she had meant to travel by air to Belize, but they would not let her on the plane, she said.
This was a blow. It meant she would have to make most of the rest of the journey by bus. It would force her to walk through the forests of Panama. She could no longer leapfrog the Darien Gap.
There were other problems. When she arrived in Brazil she was suffering from Sciatica, pain caused by pressure on the sciatic nerve. She rested for two months in Rio before setting off on her Pan-American journey, but the pain would continue to bother her.
From Rio de Janeiro, she took buses through Bolivia, Peru, Ecuador and Colombia.
In the Colombian town of Turbo on the country's northern coast, she boarded a boat and crossed the Gulf of Uraba.
The boat handlers did not have any life vests for the migrants on the three-hour journey, and Aliah cannot swim. If the boat had been swamped by the waves, they all would have drowned, she says.
"I took a boat on the high sea. It was very frightening and I actually thought it was my corpse that was moving. I wasn't sure I was still alive," she said.
Forest embrace
She gladly disembarked at the Colombian border town of Capurgana, but there was worse still to come.
She was about to enter the Darien Gap. "I embraced the journey into the forest," she said.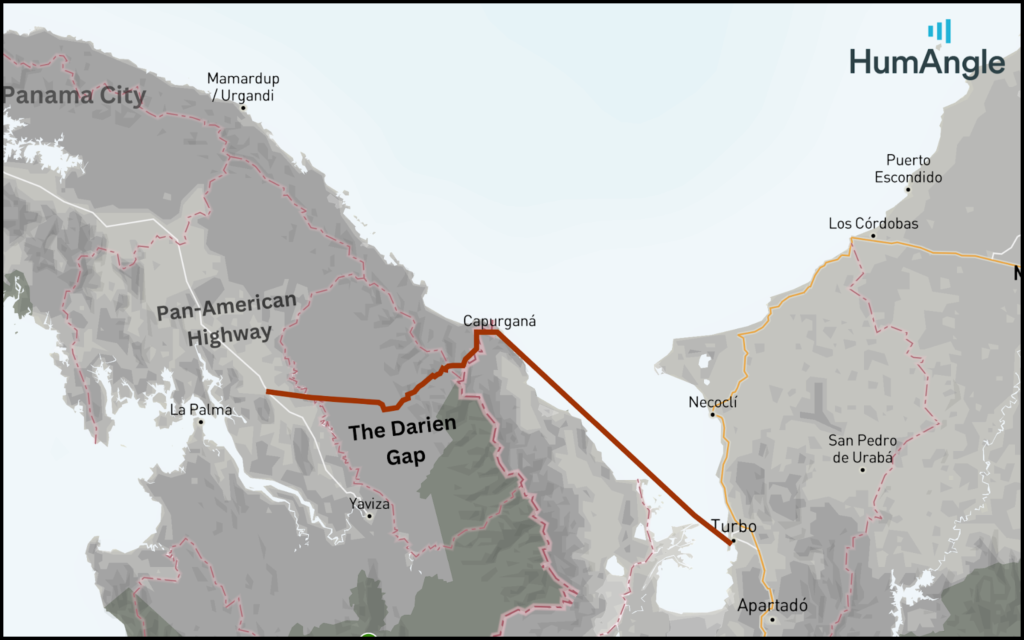 Her route skirted the coast for a time then turned inland. "In the forest, sleeping on the floor, sleeping under trees, getting moans from animals, seeing dead people on the road, meeting snakes and all of that, was very challenging."
Whenever she recalls it, she cries.
She walked for eight days, some of it lost and alone, still suffering from sciatic pain.
"Fatigue almost killed me. There are no hospitals, no police, no other services except animals. I had to rely on the first aid box I had in my bag," Aliah said.
"I felt like giving up. I moved round and round for two to three days continuously and came back to the same position where I left in the morning. It was frustrating. Since I didn't know the way back, it wasn't an option."
Seeking additional strength from God was the only option Aliah had.
Call home
Emerging from the forest she made an emotional call to her family back home.
"My family was worried. I went into the forest thinking in a few days I will be out. I came out and called back home to inform my family I was still alive. My brother heard my voice on the phone, and drank to stupor to celebrate."
Speaking from his home in Bamenda, where he is looking after Aliah's children, her brother Tse said his sister had warned them there was a chance she could go into the forest, and never come out.
"I have never been scared in my life," he said "We were so scared that we prayed and prayed and prayed. In fact, for the days that she was in the forest, I can count the number of hours that I slept. The week felt like it had 25 days because we could not imagine that one day had 100 hours."
Then he received a call from a strange number.
"When I picked it up, my lips were suddenly glued together," he said.
When he heard her voice, he screamed and screamed in joy. He screamed so much that his sister had to scold him and tell him to calm down.
"It was as if you have lost somebody, and the person came back to life. I was so emotional that I cried."
He says he did indeed go to the wine cabinet and took out the best wine and whisky he had, to celebrate.
"That call was one of the best calls I have ever received," he said.
Detention camps
But Aliah's journey was far from over.
Eventually she reached the capital Panama City, where she was put into the first of a number of migrant detention camps.
Her journey through Costa Rica, Nicaragua, Honduras, Guatemala and Mexico was punctuated by spells, sometimes weeks long, in migrant camps set up to monitor and control people making their way north to America.
These camps were not designed to stop the migrants on their journey north, but the countries' governments also don't want them moving uncontrolled through their borders. But the system can be lax.
"It sufficed to just pay some money to them to do the paperwork for you so as to ensure free movement. They give you a pass and you use it as an ID to go through their country," Aliah said.
Throughout the journey, Aliah said she met other Cameroonians and Africans from other countries. They grouped together and helped one another out despite the challenges such as harassment from both officials, and ordinary South Americans.
"There were so many challenges on the road. First of all you meet people you have never known, finding your path to an unknown destination, being scared of the immigration and police, going so far into the journey and being afraid you will be sent back, and all of that."
She faced harassment all along the route. The worst was from the police in Colombia, she said: "Some of them had to remove panty liners from ladies underwear to search for money. It was so embarrassing," she revealed.
The Border
From the moment she entered Mexico she was put in the first of three different migrant detention facilities.
"The highest migrant traffic is here," said Aliah.
Mexico is increasingly coming under pressure from its northern neighbour to prevent migrants from approaching their border. Since President Biden's inauguration in 2021, Mexico increasingly locks migrants up out of hand, with sometimes catastrophic results.
But in 2019 Mexico was using a series of migrant processing centres to funnel migrants northwards out of their country. Aliah was moved through three detention centres over the space of five weeks. Firstly in a centre at the border, another at Veracruz, and then to Mexico City, where she was given a pass and allowed to travel onward.
Aliah's case for asylum in the US was strong, which helped her move through the bureaucratic system, but there were also bribes extorted from her along the way, she says.
Once she was out, she continued north to the Mexican border with the US state of California, at San Ysidro on the Pacific coast. It is the furthest crossing on the border from where she entered Mexico.
"Finally I moved up north of Mexico where I spent some time trying to access the border. It wasn't easy," Aliah said.
50/50
She made an appointment with the immigration and waited in a hotel for a month before being seen by an official.
She told them that she was seeking asylum in the US, and could not go back home because of the war between the government and Anglophone separatist terror groups, and the specific threats made against her in her former job.
After considering her situation, they let her in.
Aliah doesn't want to talk too much about her life in the US for fear of drawing attention to herself. HumAngle is telling her story using a pseudonym.
"Giving up was never an option for me because at some point my physical body had already given up on the journey," she told HumAngle on the phone from the US.
"But since I had told my spirit I was not going to give up, because I was looking back at the family I had left behind, I was looking back at people who were looking up to me. I told myself I had to do it no matter how challenging the journey was."
But when asked if she would recommend others undertake the journey, her answer is emphatic:
"It's a 50/50 chance of living or dying. I didn't know what I was getting into, until I faced it," she said.
"If you ask me if the trip was worth it, I will say no, a big NO."
---
Support Our Journalism
There are millions of ordinary people affected by conflict in Africa whose stories are missing in the mainstream media. HumAngle is determined to tell those challenging and under-reported stories, hoping that the people impacted by these conflicts will find the safety and security they deserve.
To ensure that we continue to provide public service coverage, we have a small favour to ask you. We want you to be part of our journalistic endeavour by contributing a token to us.
Your donation will further promote a robust, free, and independent media.
Donate Here