Development
News
African Leaders Disguising Tenure Extension Plans As Constitutional Reforms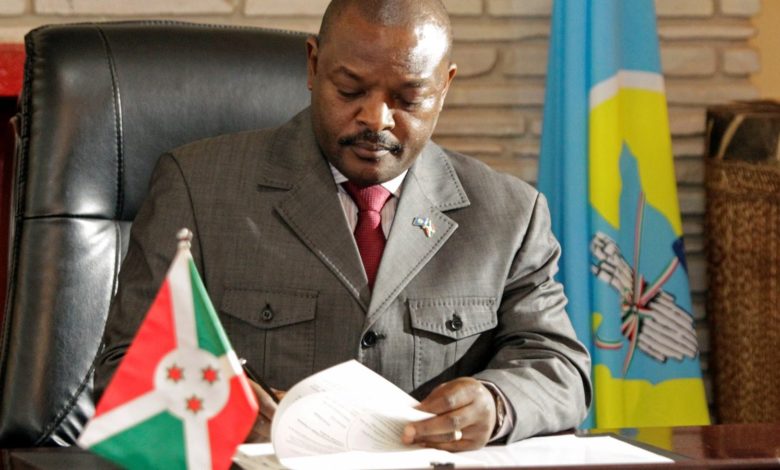 Many democratically elected presidents in Africa have often sought ways to legally extend the two-term limits approved by their countries' constitutions and are succeeding. 
The idea of limiting the number of times a country's leader can be elected into an executive position is meant to strengthen good governance by giving citizens the power and rights to change their leadership. But some sitting presidents would do anything to hold on to power longer than they should even against the will of the people.
In the past, countries who have tried to remove the two-term presidential limits are Zambia in 2001, Malawi in 2007, Nigeria in 2006, Niger in 2009, and Burkina Faso in 2014. All these countries tried but did not succeed because of oppositions from civil society and citizens' outright refusal. 
Not so long ago in 2015, President Pierre Nkurunziza of Burundi decided to re-run despite the two-term limit in the constitution. His bid for a controversial third term in 2015 set off a wave of violence and an attempted coup, which was foiled by government forces. The political crisis led to hundreds of deaths and more than 400,000 people fled the country, according to the United Nations (UN).
Nkurunziza argued that he had technically only done one term as he was first elected into power in 2005 by parliamentㅡnot voters. It was a view that was later upheld by Burundi's Constitutional Court, although there were reports that the judges were intimidated to adopt the position.
Currently, the presidents of Cote d'Ivoire and Guinea have successfully extended their tenures through constitutional amendments.  Although their tenures had ended, they insisted against the outcry of the country's citizens to remain in power. 
Ouattara's backdoor tactic
Between 2010 and 2015, Ivorians were operating an old constitution which prescribed a two-term limit for the president. In 2015, during President Alassane Ouattara's presidential campaign, he promised to lead the adoption of a new constitution. 
Although this new constitution provides for a two-term limit, it was silent regarding prior served terms. This left a huge gap as to the interpretation of starting afresh as a new person. Exploiting this loophole Ouattara argued that his term clock had been reset to zero with the adoption of a new constitution. 
The Gambia similarly drafted a new constitution but clearly specified that previous terms served would be counted, preventing the sitting president from taking advantage of the legal amendment process.  
Guinea's constitutional amendment
In 2010, President Alpha Conde became Guinea's first democratically elected president. He was re-elected for a second term in 2015. This was meant to be his final tenure but he forged ahead by pushing for a new constitution which would ban female genital mutilation, underage marriage, and give spouses equal rights to divorce. But then, he also increased the presidential term of office from five to six years, retaining the two-term limit. 
In March 2020, a referendum was held for the adoption of the new constitution. Like in  Cote d'Ivoire,  the constitutional change does not specify if the term(s) served under the previous constitution would be counted, thus giving room for multiple interpretations that could give rise to a rebirth for the sitting president.
What this means for democracy
Constitutional amendments in both Guinea and Cote d'Ivoire came with great social justice reforms, which cloaked the leaders' intentions to extend their administration. As a result, the same people who voted to change the constitution are protesting against the possibility of a third term. 
Some other African leaders have succeeded in using this tactic to stay longer in power like in Rwanda, where a constitutional referendum was held in 2015, securing a new term for President Paul Kagame in 2017 and giving him the opportunity to rule till 2034. 
Guinean civil society organisations reported that many citizens heeded the opposition's boycott of the referendum, with participation reaching only 30 per cent in many parts of the country and less than 15 per cent in the capital, Conakry. Past national votes in Guinea had seen participation levels of up to 75 per cent. On the day of the referendum, however, local media outlets reported that there were not enough ballots at some stations. Others saw their voter cards confiscated and were told to wait outside while someone voted for them. Yet, others said they were forced to vote. 
At least 12 people were killed, with dozens more, including opposition leaders, arrested. In the Forestière region, a voting conflict sparked sectarian violence that led to several churches and mosques being burnt down and more than 15 people killed. Additionally, security forces reportedly confiscated ballot boxes to conduct the counting themselves. According to the government, the referendum passed with 89 per cent of the votes cast. It added the exercise recorded a participation rate of 58 per cent. But many wonder how the referendum could have been democratic if it did not reflect the correct position of the people.
Unrest as a result of third-term attempts
Citizens of Cote d'Ivoire recently took to social media to show their displeasure and express their fears about the country's state of affairs.
"We had to stop going to work in Cote d'Ivoire because of the election violence. We were almost attacked on the way to work last week in Abidjan.  Same last week, we couldn't communicate with some of my colleagues in Guinea cos their network was cut off. It's crazy," tweeted @Aijay.
The former president of Liberia, Ellen Johnson Sirleaf, also took to Twitter to express her worries about reports of violence following the election. "I urge my brothers and sisters to please exercise restraint so that disputes may be resolved peacefully and without further escalation," she said. 
In Guinea, citizens took to the streets post-election to show that the electoral process was not free and fair. In reaction to the disturbing development, Fatou Jagne Senghore, Regional Director of ARTICLE 19 in West Africa stated: "We strongly condemn these unlawful killings. Protest is a right, but the security forces used excessive force to repress the demonstrations in the aftermath of the elections." 
"Even when there are pockets of violence, the security forces should focus on de-escalation, and avoid deadly repression. President Conde must give clear instruction to the security forces to stop the use of firearms and excessive force against protesters and instead facilitate the right to protest," Senghore said.
The silence of the AU and ECOWAS
The Africa Union Constitutive Act is tasked with countering coups and other types of unlawful and undemocratic power grabs. 
In line with this mandate, the organisation has been consistent in rejecting military coups. It recently opposed the ousting of Omar al-Bashir, then Sudanese president, by the military and a similar coup in The Gambia in 2017.
However, the African Union has never publicly invoked this prohibition, despite the prevalence of constitutional reforms to accommodate third terms across the continent and has largely remained silent in the face of "constitutional coups" that see incumbent leaders making amendments to existing laws to circumvent term and age limits.
The organisation's reluctance to weigh in may partly be as a result of the cover of democracy often placed on such changes.
---
Support Our Journalism
There are millions of ordinary people affected by conflict in Africa whose stories are missing in the mainstream media. HumAngle is determined to tell those challenging and under-reported stories, hoping that the people impacted by these conflicts will find the safety and security they deserve.
To ensure that we continue to provide public service coverage, we have a small favour to ask you. We want you to be part of our journalistic endeavour by contributing a token to us.
Your donation will further promote a robust, free, and independent media.
Donate Here