Armed Violence
Features
News
#Afaka39 Abduction (1): 'I Touched A Corpse For The First Time In Captivity'
On May 5, the last set of the 39 students kidnapped from the Federal College of Forestry Mechanisation were finally released. Emmanuel Benson, the student who pleaded on behalf of his colleagues in a video, and his family share their experience with HumAngle.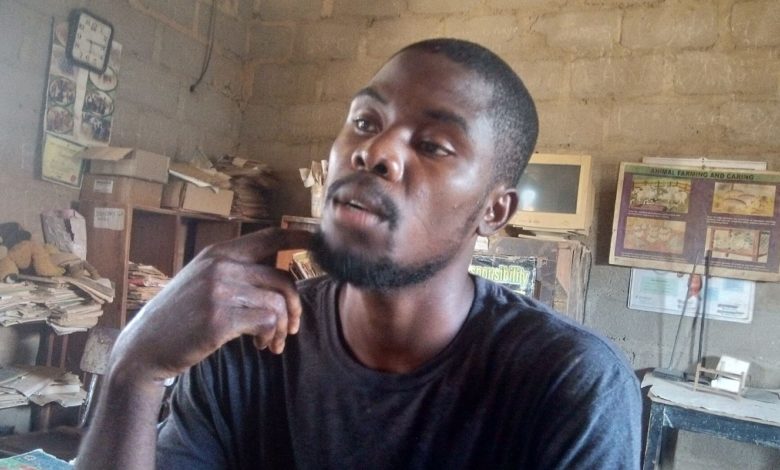 Listen to this story

Before he was kidnapped from his hostel on March 11, 2021, alongside 38 others, Emmanuel Benson, 24, a final year student of Federal College of Forestry Mechanisation, Afaka in Kaduna, Northwest Nigeria, had never seen a corpse not to speak of carrying one.
A day earlier, he had made a trip home to collect money for an upcoming school excursion from his 60-year-old mother, Nnenna Elizabeth Benson. But she was not at peace with his trip because of the insecurity along the Kaduna-Abuja Road.
When Emmanuel, who is studying Horticulture and Landscaping, convinced her that the excursion would hasten rounding off his school programme, "I told him I only had N7,000 and was going to give him N4,000 out of it," his mother narrated. "He said it wouldn't be enough, so I told him to get the balance from his elder sister."
Married to a pastor, Mrs Benson runs a school she started in 1986. From nursery class, they had built it to the secondary school level. They have five children and Emmanuel is their last, the closest to his mother.
That fateful day, Mrs Benson told her son: "Now that you're about to round off school, my problems will be over." She looked forward to making a new floor for her school and giving it a beautiful appearance. So she asked him to give her a call after his return from the excursion.
But that phone call never came.
Taken
On Thursday, March 11, about an hour before he was abducted, Emmanuel was feeling dizzy in the hostel. There was no electricity supply and they had returned that same day from their excursion.
"I was chatting on WhatsApp when I heard strange sounds from outside," he told HumAngle. "I knew something was wrong and hid under a table in my corner."
But the armed men, dressed in haphazard military uniforms, burst into the room and he was soon forced out among several others. 
The terrorists had come around 11:00 p.m. but by the time they took their captives, most of them females, it was around 1:00 a.m. Although there were motorcycles, it was not enough for even half of them.
Emmanuel and his schoolmates trekked with their captors, numbering about a hundred, for not less than five hours to an unknown destination in a forest. Their meals consisted of Tuwo da Miyan Kuka, a local meal made of corn flour and Baobab leaf, in the morning and evening. Sometimes they had the same corn meal with Okro soup. The girls were responsible for preparing and serving the meals while the young men fetched water.
In a video posted on March 13, Emmanuel and a female victim were selected to persuade the government not to send a rescue team so they are not killed. Emmanuel spoke again in another video released 47 days after, pleading with parents and relatives to come to their rescue.
"The (first) video was made on our second day there," Emmanuel explained. "My colleagues unanimously chose me to be the one to speak when the video was to be shot."
He pointed out that although some were struck hard during their time in captivity, he was only slapped on the back once.
But some reports after their release suggested that the girls were raped. Emmanuel said this was false, narrating how one of the terrorists who continually insisted he wanted to sleep with the girls was silenced.
An elderly man who was much older than the gang's boss was one of those who watched over the abductees. He had been present during the kidnapping mission, but he had not entered the school premises.
"He is the only man the leader bowed to greet," Emmanuel said, adding that the elderly man seemed to have been in the business of kidnapping for a longer period of time.
This was the man who got angry and reported the terrorist who wanted to rape the girls.
The leader sent a duo nicknamed Death Squad. One of them was the leader's brother.
"They said, 'What's happening? Why will you offend Baba? Bring your gun,'" Emmanuel narrated. "The men thought their guns were going to be seized and argued with him. The boss's brother got angry and shot the man who wanted to rape the girls."
That was how Emmanuel and four other students were saddled with the responsibility of dumping the corpse. He even had to close the dead man's eyes which stared up at him. 
Negotiations
The night terrorists stormed her son's school, Mrs Benson realised her son had not called her. By 11:30 p.m. she awoke from sleep and called his phone.
But Emmanuel's voice was faint in the background as if he was crying. She called several times and asked him to talk to her but her efforts were in vain. Gripped with fear, she prayed until she slept off.
"I had a dream where I saw my husband in tattered clothes," she told HumAngle. "I asked him why he looked that way and he simply made a gesture with his hand. My husband and I are very close, so I knew he would not do something like that to me. I heard a voice that asked me to pray. When I woke up, I continued praying till 4:00 a.m."
Later, her daughters' voices drifted into her room. Then she heard one of them say, "Lower your voice, don't let mummy know."
At that time, Emmanuel's elder sister Grace Benson had been informed by a student at the college that he had been kidnapped.
"My sister and I were devastated," Grace said. "I had spoken to him the day it happened."
The problem now was whether to tell their mother or not. They knew how close to their younger brother she was and, after discussing with their father over the phone, they decided to wait.
Unfortunately, before they could summon the courage to tell her that morning, their mother got the news from her son's schoolmate outside their gate. Mrs Benson wailed until neighbours gathered around her.
"The entire community visited and encouraged us," Mrs Benson recalled. In the passing days, she began to hallucinate and heard her son's voice every night. "I would tell my children that I wanted to go to him. People told me that if I continued that way I was going to die."
To draw strength, Mrs Benson studied the Bible and prayed more during that period. Then she asked her daughter to get the phone numbers of other parents whose children were kidnapped.
"We needed to communicate. We did not want a situation where our children would be harmed. And most of the victims were girls. We also did not want a situation where ransom would be paid separately," she told HumAngle.
Eventually, Mr Benson came home and was elected one of the leaders in the parents' committee.
After two weeks, the terrorists called to say they had exhausted their food supply. "The bandits were communicating with an ex-bandit and Sheik Gumi and the information was relayed to the school," Mrs Benson said. 
So the parents gathered money. Many of them are farmers and did not have much to contribute. Mrs Benson remembered her family contributing N80,000. "We gave a total of N1.5 million even though some say it's N800,000," she added.
Subsequently, the money gathered between the school and parents amounted to N17 million. 
"Although they were told we needed all the children, they first freed five. They claimed those ones were not healthy. Then another batch of five."
Since Grace's father was not always around, Grace needed to attend the parents' committee meetings on her family's behalf.
From the beginning, she gave her mother hope but, at some point, she refused to talk to her when she returned.
"She always wanted to get an update and I didn't know what to say to her. I always said 'he is fine' and that he would soon be released," Grace explained. "But we were not getting the result we needed. How was I to tell her that we were handicapped? We did everything humanly possible. The only thing we didn't do was walk into the bush to rescue them. Sometimes their release seemed close and then we were back to where we started."
Then one day the terrorists gave her a call. They let Grace talk to Emmanuel and she used the opportunity to encourage him. "He told me that whatever happened, he was ready for it," she said. "I reminded him that God would not leave him."
Her brother had warned her not to discuss money with them, so when they brought it up Grace tried to calm them down while they insulted her and threatened to kill Emmanuel.
At other times, the terrorists talked to her father. When he referred to them as 'kind' for not harming his child, the terrorist said how could he say that when they had kidnapped people's children?
When they demanded to speak to Grace's mother, her father asked another of his daughters to speak instead.
Hope in the dark
Emmanuel too was experiencing what his family was passing through, but in a different way. In his own case, he had no idea how the negotiation was going and ceased to let himself hope too much.
"I have always been the kind of person who tries not to get anxious about anything," he told HumAngle. "But deep down, I believed we were going to go home."
Then one day the terrorists asked for the phone numbers of family members. They had begun to get desperate because the state government was not responding. The students obeyed without complaint. This kind of cooperation was what kept them alive for over 50 days in the forest, Emmanuel said.   
"They were always telling us not to worry, that we were going to be released. They realised that what we told them, that our parents were not rich, was true. They confirmed this through the news," he said. "We also didn't have an escape plan and didn't argue with them. So we built a relationship with our guards so much that they had some level of trust for us. They liked to gist more with the girls. Sometimes they gave us updates."
But those who went on missions and returned, guns in hand, did not interact with the captives.
Sometimes the students despaired and thought they would never go home. "But I personally didn't lose hope. I simply prayed anytime our hopes were lifted," Emmanuel said.  
Throughout their stay in an unknown location, Emmanuel did not cry. He admitted this was not because he was strong. "Many looked up to me so I didn't allow myself to break down before them. I had to be strong and this kept my hopes high," he explained.
In the early days of their captivity, when fear possessed him, Emmanuel had prayed and the terrorists had demanded to know what he was saying, but he kept quiet. Right from then, he had the strong faith that nothing was going to happen to him and only wondered for how long their captors would have him.
Then one day, after over 50 days in captivity, they were herded through the forest for eight hours.  
Freedom!
Mrs Benson had sleepless nights within that period. It seemed the terrorists' demands were not going to end.
HumAngle had reported on May 4 how the parents lamented that after raising and paying N55 million to the kidnappers, they had refused to free their children. 
During the period, Emmanuel's father had called a meeting and the parents agreed not to discuss ransom individually or it would cause the death of some of their children.
At this point, it appeared they had all reached their wits' end. They had paid a ransom and protested without result.
Before the last ransom was paid, the parents had decided they were going to march down to the National Assembly in Abuja to protest.
On Workers Day, a three-seater bus and several cars were chartered. This was done quietly. "It was that day the children were released. N15 million was delivered that day," Mrs Benson said.
When her son came home, Mrs Benson hugged him with tears in her eyes. "As I cried, Ema cried too," she told HumAngle. "I shouted and people gathered and held me. But they didn't understand that it was a cry of joy."
---
Support Our Journalism
There are millions of ordinary people affected by conflict in Africa whose stories are missing in the mainstream media. HumAngle is determined to tell those challenging and under-reported stories, hoping that the people impacted by these conflicts will find the safety and security they deserve.
To ensure that we continue to provide public service coverage, we have a small favour to ask you. We want you to be part of our journalistic endeavour by contributing a token to us.
Your donation will further promote a robust, free, and independent media.
Donate Here