Development
Features
News
Solutions & Development
Abuja Persons With Disabilities Community Receives Support From Skill Centre, Needs More
Through an initiative, a colony of persons living with disabilities at Karmajiji, Abuja, are learning inclusive skills, however, some of the beneficiaries describe the framework as flawed.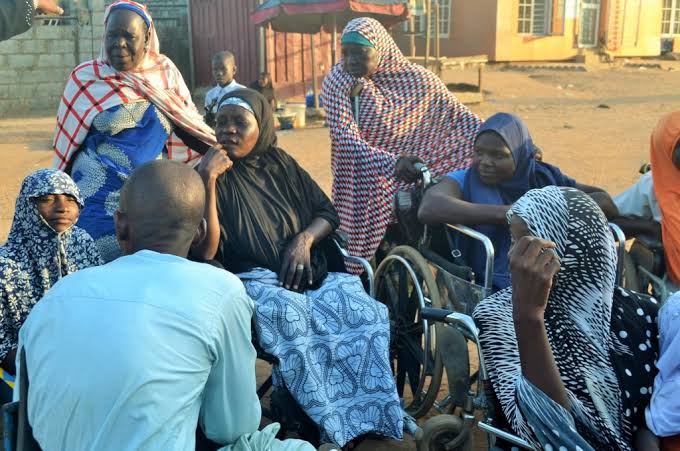 Thin gold-plated steel lodged in between Jummai's teeth shines in the sun as she smiles. It is Friday, and she is dressed in a brightly coloured gown, covered with a clean khimar (head covering garment). She wheels herself to the front of a skills acquisition centre where she will get a car to take her to the mosque in the Federal Capital Territory's (FCT) Central Business District.
Jummai started learning how to sew at the centre two years ago. "I learned the basics of sewing and how to handle a sewing machine at the centre, but after the training was done I followed the trainer to teach me more," she explained.
In 2018, the centre was unveiled by the Juremi Foundation in a neighbourhood called Unguwar Guragu (loosely translated as disabled people's community) in Abuja, North-central Nigeria. This was done to teach persons living with disability and leprosy living in the community skills such as tailoring, music composition, welding, shoemaking, soap making, and Information Communication Technology (ICT).
Jummai, who is wheelchair-bound, sews for women and girls in the community and this enables her to put her children through school. "I was born with a disability and never went to school. I will not allow the hardship we are facing here to hinder education opportunities for my children."
While doing what she enjoys for the people she loves, she admits that it takes her longer than usual to finish a set of clothing. It is one of the biggest challenges she faces and this has driven some of her customers away.
"You see, whenever there isn't electricity, I cannot iron the clothes to finish my seams and make them neat. As a person that can not walk, fetching coal for my coal iron is a tiring process," she explained.
Colony of people with disability in Karmajiji
In a cluster of shanties and cabins built with cartons and roofing sheets is a colony of 520 people with disabilities (PWDs), mostly lepers, living together under the watch of Muhammad Suleiman, who is chief of the community.
Located in Karmajiji, a settlement behind the Nigerian Army Cemetery, about two kilometres away from the Abuja city gate, Suleiman described it as a temporary site as they wait for permanent relocation.
In 2009, the then minister of the FCT, Nasiru El-Rufai, had evacuated them to the place, affirming that a permanent site will be set up. However, 12 years later, their hopes dwindle as they continue to face despondency.
Apart from the low quality of living, they experience other challenges like inadequate maternal care, the need for clean water, and the absence of inclusive opportunities that have pushed the majority of them into street begging.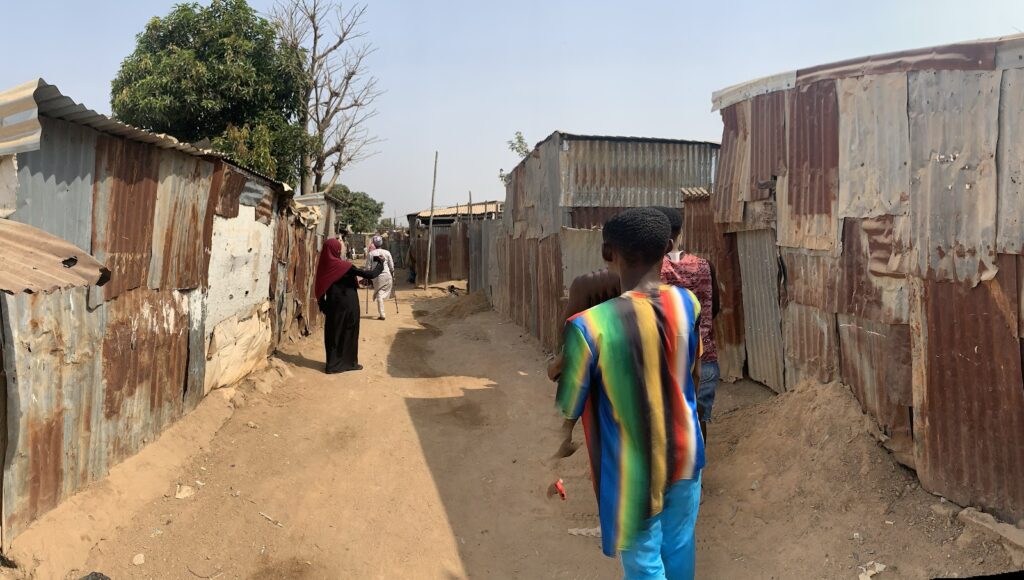 On Thursday, Feb. 9, 2022 a fire outbreak that started due to a faulty electricity line displaced occupants of more than 30 households who had lost their homes, belongings, and businesses.
The colony's chief posits that the damage was greatly due to the materials used in building the shanties and how they are clustered. "Even when the Federal Fire Service came to put out the fire, the narrow paths leading to the burning area limited them from entering. They only came and advised us to mix water with detergent to put out the fire," he explained.
Although lives were not lost in the fire, those directly affected currently only possess the clothes they had on at the time of the fire. Those who were not affected by the fire but started putting out their belongings in fear that the fire would reach their household, were looted.
Auwal, who owns a gaming and phone charging station said two socket extensions and a controller pad were taken from his shop while he was trying to save them from burning. This has affected his daily revenue from N15,000, before the incident, to N7,000 now.
Flawed framework
Founded by Amen Rochas, Juremi Foundation was established in 2018 with the aim of implementing effective development ideas and innovative solutions to address issues bordering disability inclusion.
Their charity has been noted in the disability sphere as they have embarked on outreaches to enhance the lives of people living with disabilities, especially those who are not privileged to access disability equipment.
In Karmajiji, the foundation built a skill acquisition centre that, in its first year, graduated 40 students with a certificate for successful completion.
Hamza, who is one of them, learned music composition but faulted some parts of the framework.
"Number one, this is not a training of an hour or two. When we start at 10 a.m. we stay there up to like 5 p.m. five days a week" he said. Hamza explained that this hindered him and a lot of his mates from tending to other matters or even overseeing their means of income.
"When you spend the whole day there, how will you cater to your family's needs?"
There was also the lack of financial support that would magnify the empowerment. Hamza said that he did not want to be ungrateful to the initiative and all he learned during the exercise, but so far he has not used the knowledge acquired in a way that will benefit him because he lacked the means.
Mohammed Dantani, the secretary to the chief of Persons with Disability within the FCT said other problems such as poor maintenance has rendered the place almost useless.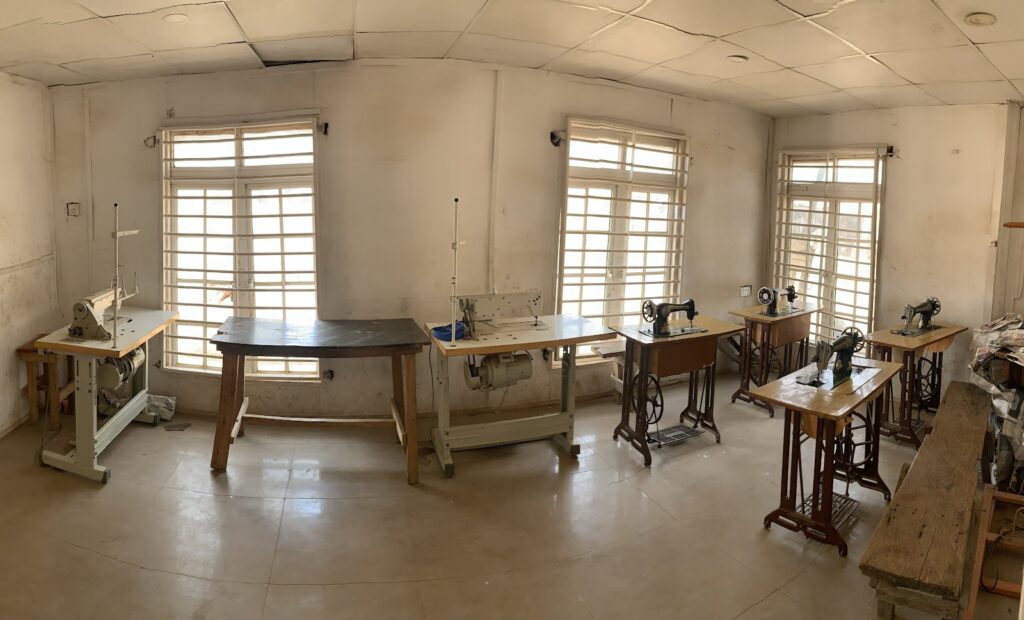 Falling back on street begging 
Street beggars dotting various districts in Abuja typically comprise different categories of the needy, this includes underprivileged persons living with disabilities. It is partly due to this that the foundation decided to set up a skill acquisition centre to empower them and keep them off the harsh consequences that accompanies street begging.
Hafsat became a petty trader despite abandoning the training at the centre. She did not enjoy begging and so started trading tubers of yam, dried pepper, and other food items with a capital of N60. "Me, I don't want to beg," she said, even though things have become harder for her after the inferno.
But it is a different story for others. Many of the community members, including women and children, troop out every day, especially on Fridays, to busy highways or districts with upper-class residents to beg for money.
Dantani said that though they were already going through the harshness of life, the fire outbreak has put a lot of residents in a dilemma.
At the time of filing this report, it had been a month since the fire incident, yet there has been no form of aid from the FCT Social Development Secretariat (SDS).
"They keep telling us to write our complaints and we do, we have sent so many letters to the point that we just hope for God's miracle," Dantani said.
Amar Sani, Director of social welfare services at the FCT SDS admitted that part of its mandate is to look after vulnerable people, which underprivileged persons with disabilities fall under.
He claimed that letters from such communities are usually addressed to the Ministry of State, FCT before it is referred to the SDS and can be lost in the process.
Sani also added that the 20 hectares of land for the development of a permanent settlement in Gwagwalada, an Area Council of the FCT, had already been approved but what was delaying the process was land allocation issues in the location.
"There hasn't been proper planning in the area and the Federal Capital Territory Administration (FCTA) is doing something about it. Once it is rectified, the reparations made available will be put to use."
He claimed that various religious-based organisations, NGOs and other government agencies have extended donations to the community through the SDS but the reason they continue to beg on the streets, despite it being banned, is a phenomenon he does not understand.
Dantani explained that apart from his role as a secretary, he also coordinates interested community members to learn skills so they set up businesses to sustain themselves, however, unforeseen situations such as the COVID-19 pandemic and the fire outbreak has offset their aim to disallow street begging. 
---
Support Our Journalism
There are millions of ordinary people affected by conflict in Africa whose stories are missing in the mainstream media. HumAngle is determined to tell those challenging and under-reported stories, hoping that the people impacted by these conflicts will find the safety and security they deserve.
To ensure that we continue to provide public service coverage, we have a small favour to ask you. We want you to be part of our journalistic endeavour by contributing a token to us.
Your donation will further promote a robust, free, and independent media.
Donate Here