Armed Violence
Features
Abducted, Sold, And Chained Like A Slave
Murtala Umar needed to make enough money to enable him to pay for his final year examination. But his attempt to work as a farmhand pushed him into the hands of terrorists in Zamfara, Northwest Nigeria. How did he escape?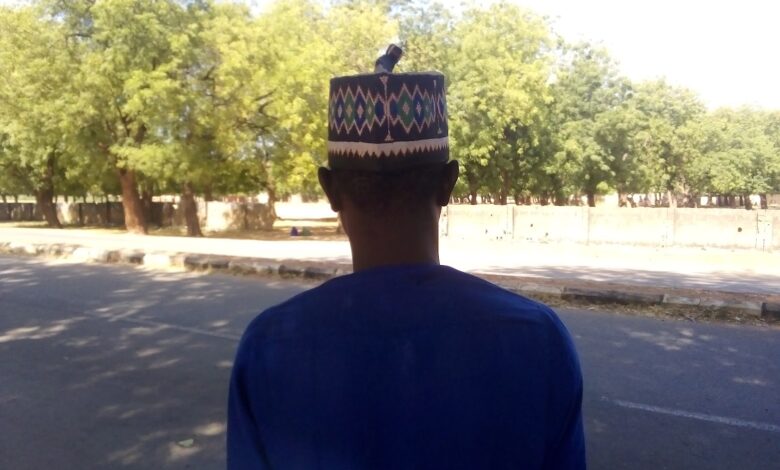 It is rare that a victim gets to hear details about his captor's 'trade' directly from the source. But a gang leader who introduced himself as Kiruwa explained his captive's predicament to him in a manner that could make the toughest man shiver.
"We don't go and waste our bullets and ammunition in villages and communities just to kidnap, rustle cows or abduct women for sex. No! There are several gangs whose business is to do that. Our boss Shadari warned us to stop all these.
"That is why we now resort to buying kidnapped people from our colleagues at cheaper prices ranging from N200,000 to N1 million."
Twenty-nine-year-old Murtala Umar, chained down beneath a tree like a slave, shivered when he heard this.
Before all this happened, he was just an ordinary student with a goal – to bag a diploma in Physical and Health Education. But to achieve this, he needed to pay a fee of up to N37,000 to his school.
The management of Habibu Aliyu Yandoto College of Advanced Studies (HAYCAS) Tsafe had put their foot down. No student would be allowed to take their final semester examinations without the evidence of full payment of fees. And this decision came four weeks before the examination scheduled for the month of November, 2022.
How was Umar going to come up with the money? Time was running out, fast. To make matters worse, his wife was about eight months pregnant. Then there was the extended family which included seven younger siblings who looked up to him. His father had since lost his strength to fend for the family due to old age.
Umar was a farmer, but he was unable to access his farm as the incidence of abductions persisted. Life in Daki Takwas, located in Gummi Local Government Area (LGA) of northwestern Nigeria had become unbearable as a result.
"So I and nine other farmers took a five-day contract from Alhaji Sakatare, one of the richest residents of Daki Takwas village, at the rate of N6,000," Murtala told HumAngle.
"Alhaji Sakatare is the farmland owner who hired us to work at his farm where we were abducted." Murtala highlighted.
Kidnapped
On Oct. 14, their first work day, they were loaded into an Isuzu truck at dawn. Umar and his colleagues soon arrived around 7 a.m at a maize farm in Dajin Dankaraye, 7km away from Daki Takwas town.
Suddenly there was some noise and then the sound of gunfire around them. Diving for cover, the men fell flat on the ground. Six gunmen bearing AK47 rifles emerged from within the farm.
One of the gang members explained to the farmers that they had been expecting the workers alongside the farm owner, Alhaji Sakatare. This was why they spent the night in the farm waiting. At that point they searched each farmer's pockets and confiscated their mobile phones. They also took any money they found.
"They asked us whether the owner of the farm, who was their main target, would be coming to bring us lunch at the farm," Umar continued.
"They further inquired if Alhaji has a new motorcycle or owns a car. We answered that he had both. We said so because we already figured out that they knew and have enough details about the Alhaji and if we told them otherwise they could kill us instantly."
While these questions were thrown at them, they were tied to a tree. The gang then told the farmers that if they successfully abducted Alhaji Sakatare, they would be released.
During their talk, the armed gang finally instructed that the farmhands be tied to a tree in waiting for the rich Alhaji Sakatare to arrive at the farm. "They told us that if they abducted Alhaji they would release us and set us free." Says Bala, one of the kidnapped victims.
Umar would later learn that when their employer was set to come to the farm, an emergency held him back. But "four boys" were sent ahead on motorcycles to deliver the labourers' lunch.
On getting to the farm, the boys were ambushed by the gang and only two of them escaped.
"For that reason, our captors believed that the news might have reached Alhaji so he might not come to the farm. From there the terrorists finally decided to hold us as hostages and moved us to their den…which took us two days walking through the forest areas," Umar explained.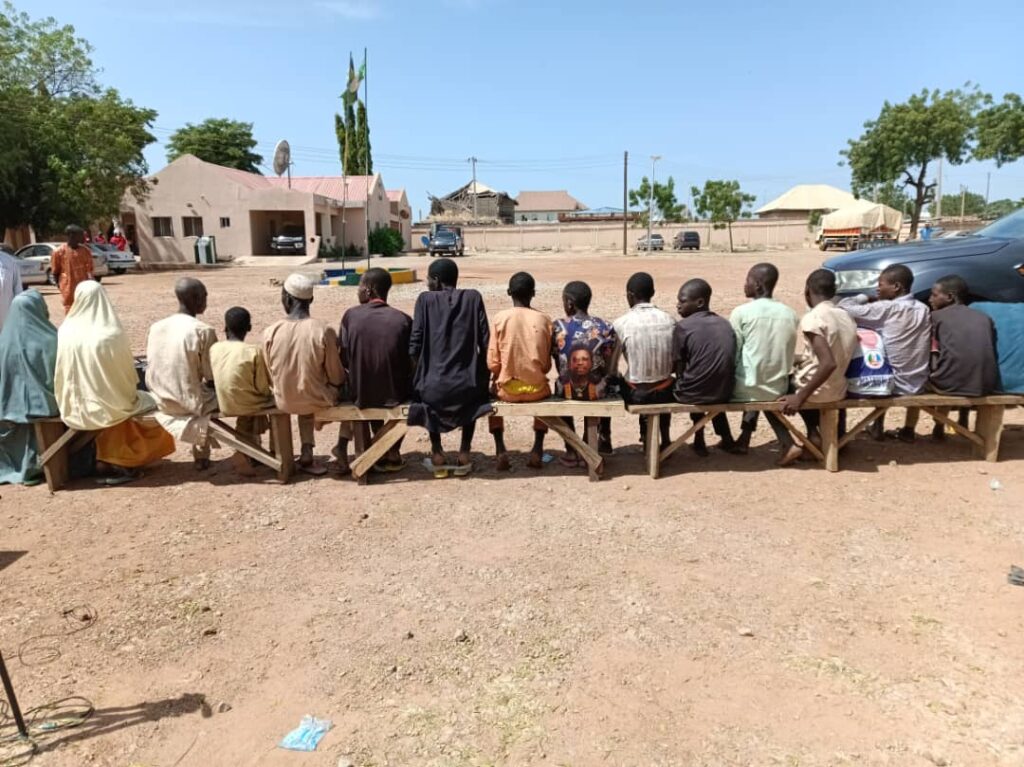 The great trek
The nine farmers, including the Isuzu truck driver and the two boys now brought the total of captives to 12.
At about 5:30 a.m. the group reached a village called Gora, close to Kawaye forest in Anka LGA. Umar was hungry and tired, and so were his fellow abductees. Here, the gang leader ordered for food to be bought. It turned out to be a guinea corn meal that looked like rice.
"We managed to eat it even though I and three others developed stomach upset afterward. I was purging and became dehydrated," Usman narrated.
After eating, they continued the trek until they reached Bukuyum LGA. Many hours later, they arrived at Gando forest within the local government.
Then at Ruwan-Kura village, there was an astonishing development. The kidnappers met with another group of terrorists.
"Like us, the terrorists themselves were tired. So they sold us out to another terrorist group," Umar said. The new group, who had about 25 captives abducted from Birnin Tudu village in Gummi LGA, were paid in cash.
So, the new group ordered Umar to ride one of the motorcycles towards Kawaye forest in Anka LGA.
Captor/captive conversation
Umar rode the motorcycle with one of the terrorists called Shehu and as their journey progressed, they chatted. This was when he realised that his passenger was unfamiliar with the forest route. Shehu, apparently, was a new recruit.
Shehu revealed that it was his second month on the job and his fourth experience in an armed operation. He had received training on how to shoot and service guns, but he was fast getting fed up with the business.
But Umar feigned interest and asked how he could join. He pointed out that he liked the fact that he could learn to protect himself from attacks.
"The terrorist was surprised that I didn't hate him. He gave me two sticks of cigarettes to smoke. I took it and smoked just to get his trust and effect my escape plan," Umar said.
When they finally arrived at the camp, Shehu told their leader Umar's intentions. But instead of being rewarded for wooing a new recruit, Shehu was punished because Umar was of a different ethnic extraction..
Umar and the other abductees were forced to sit on the ground in chains. He recalled a bald-headed man who checked to ensure the chains were secure and put them under a tree.
"I gave my calf, not my ankle or feet. The giant armed man shouted at me and furiously hit my leg to chain me. I told him that all my legs were in pain because of the motorcycle I rode and fell several times while on transit to the camp," he said, already planning his escape.
This was when Umar began to pay more attention to his captors' discussion and movement.
Eventually, a member of the gang approached Umar and asked him to facilitate ransom payment. "This was when I learned that they bought us for N500,000," he told HumAngle.
Umar told the man, who appeared to be the group's leader, how they were kidnapped and what they had passed through. He also introduced himself properly in a bid to build trust. It seemed to work because he got to know a lot afterward. He gathered that the gang leader's name was Kiruwa and that he worked with Baba Shadari, a well-known terror leader in the northwestern region. Kiruwa went on to explain that they specialised in buying, keeping hostages, and collecting ransom. They do not bother going all out to attack and kidnap.
"We are many in our operations. We stopped kidnapping farmers but we buy people from the kidnappers and keep them," Kiruwa revealed.
He continued: "We don't go and waste our bullets and ammunition in villages and communities just to kidnap, rustle cows or abduct women for sex. No! There are several gangs whose business is to do that. Our boss Shadari warned us to stop all these. That is why we now resort to buying kidnapped people from our colleagues at cheaper prices ranging from N200,000 to N1 million."
The amounts, of course, depended on the location and financial strength of their victims, which could run into millions. Shaken, Umar gave his brother's phone number to Kiruwa to begin negotiations.
The escape
On Oct. 28, Umar decided it was time. He was now more determined than ever to steal away. His mind made up, he whispered his plan to the fellow abductee closest to him. He had observed his immediate environment and the hosts' routine. Word travelled down the line of chained humans. Everyone was surprised but realised soon enough that it was not impossible. Umar was the only one who was chained differently.
"I dragged down the chain from the upper part of my leg to my feet and simply unchained myself," Umar told HumAngle.
In the hour he chose to escape, there was only one guard present. Already intoxicated, the man had dozed off with two guns lying by his side. The rest of the gang had strolled off to smoke marijuana.
"I tried to unchain the others but could not because all of them were chained from their ankle not calf," Umar recalled. He wore the sleeping guard's shirt hung on the tree and picked one of his guns. When he was far away from the camp, he abandoned the gun, took off the shirt and fled as fast as his legs could carry him.
When Umar finally made it home, the news of his great escape shocked the entire Daki Takwas community. But there was a problem. It was about a week before his examination and he still had no money to pay his school fees. Farming was totally out of the question now.
Summoning courage, Umar approached the school authority and explained his predicament. His experience drew sympathy from the management and he was asked to write an undertaking, promising to fulfil his obligations. That was how he was able to sit for his examination on Nov. 19. But as at the time this report was filed, Umar was still unable to come up with the required N37,000.
---
Support Our Journalism
There are millions of ordinary people affected by conflict in Africa whose stories are missing in the mainstream media. HumAngle is determined to tell those challenging and under-reported stories, hoping that the people impacted by these conflicts will find the safety and security they deserve.
To ensure that we continue to provide public service coverage, we have a small favour to ask you. We want you to be part of our journalistic endeavour by contributing a token to us.
Your donation will further promote a robust, free, and independent media.
Donate Here