Features
News
Solutions & Development
A Mentorship Programme Is Turning Young PWDs Into A Thriving Workforce
It all started in Abuja, Nigeria's capital city, and then quickly spilled into a global affair with mentors that groomed persons living with disabilities to achieve their dreams.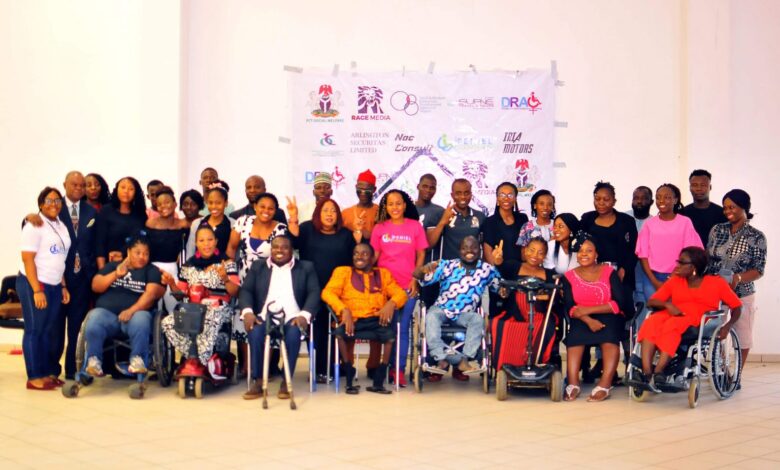 In 2017, Aisha Dirisu was visiting a cousin at work when she noticed a young man struggling to gain access into the building. Unfortunately, there was no ramp to assist his climb and a few people reached out to help him get up with his wheelchair. Then the firm's managing director appeared and sent the visitor out of the premises.
"He humiliated the young man," Dirisu told HumAngle.
That single incident birthed a hunger for justice within her. She felt no one deserved to be treated in such a cruel manner. This saw the emergence of Peniel Foundation, an organisation she founded that connects Persons with Disabilities (PWDs), mostly virtually, to mentors who help them to achieve their goals. Today, after being connected with mentors across the world, people like Andrew Namolo from Kenya, Ian Takun from Zimbabwe, Sanaa Akintola from Nigeria, among many others, have attained career heights they may have once thought impossible.
An online encounter
In 2021, Andrew Namolo was browsing the internet, all the way from Kenya, when he came across a call for applications on Peniel Foundation's LinkedIn page. As someone who is hard of hearing, the initiative instantly caught his attention and he asked in the comment section if individuals outside Nigeria could apply. After receiving a positive response, he started the application process with enthusiasm.
Before being accepted into the mentorship programme, Namolo worked as a data entry officer and later for Zalego Academy Ltd as an Inclusion Officer.
"I was thirsty for developing professional skills that would add value to my profession in the field of disability inclusion," Namolo wrote in his speech, read aloud by a moderator during Peniel Foundation's June 2022 virtual graduation ceremony. "After being accepted, I was allocated a mentor, John Toti Mark from Ivory Coast, who would say that he did his best to make sure I got a good mentorship from the programme."
The programme centred around organisation, management, and project management. Several Zoom meetings later, Namolo acquired skills that led to his employment as a project officer at Humanity and Inclusion, an international humanitarian organisation based in Nairobi, Kenya.
But Namolo is not yet done. "I have learnt a lot from other fellow mentees and my mentor through e-meetings. The journey is not yet complete. I will still engage my mentor for advice on my career. I will also keep in touch with the Peniel Foundation team. They have gotten me a free platform to learn at their own cost," he said.
Opening doors
Peniel Foundation envisions an inclusive Africa where PWDs contribute to nation-building so they can be financially independent. They do this by strengthening their capacity, increasing their access to decent jobs and opportunities, and empowering employers to build a more inclusive workforce and accessible workplace.
Over the years, the foundation has had a lot of programmes, projects, and activities. One of such is the Chevening Scholarship Workshop.
"This was built out of the desire to have more representation for persons with disabilities on the Chevening Scholarship," Dirisu said. "We approached the British High Commission that we would like to see more representation from persons with disabilities and they decided to partner with us. Every year since 2019, we run the Chevening Scholarship Workshop specially designed for them."
The first event was held virtually in Abuja, North-central Nigeria, due to the covid-19 pandemic. There, PWDs were trained on how to apply for the Chevening and Commonwealth scholarships. This enabled them to have a better chance of being selected.
"It increased the number of persons with disabilities accessing such opportunities, from just one scholar several years ago to six in 2021 alone."
In 2019, Akinsole, who has a hearing impairment, travelled from Lagos to Abuja to participate in the Chevening Workshop. Today, he is in the United Kingdom after winning the prestigious award.
From the beginning, people wondered how he would cope because of his impairment. But Akinsole ended up becoming one of the top five best students in his set at the University of Sussex.
"I came out with a distinction," he said in his graduation speech. "You can also get there, whether you are physically challenged or have a hearing impairment."
The foundation's mentoring programme connects African youth with disabilities to successful mentors worldwide.
"We have mentees from Uganda, Kenya, Cameroon, Nigeria, and other parts of Africa. Some mentees graduated in the month of June 2022," Dirisu said. "They also get professionals who coach them on their mindset and career. There is so much personal and professional development that happens during the period. So far, over 60 per cent of participants have gained employment after the mentorship programme."
Inspiring PWDs
During the lockdown occasioned by the coronavirus pandemic, the foundation's Inspiring Series initiative provided mental and emotional support for youth with disabilities by inviting various speakers, including successful persons with disabilities, to share their inspiring stories.
Peniel has also done training with small and medium-scale enterprise development agencies in Nigeria, where they equip young people with disabilities with entrepreneurship skills. "A lot of them were given funds to start their business," Dirisu pointed out. "We have also done several capacity-building workshops to build their digital skills in Nigeria."
So far, over 11,000 persons across the world have joined the Peniel Inspiring Series programme. "We got a lot of feedback about how helpful it was to them and how it helped change their mindset," she added. And that is not all. When it comes to mentoring, Peniel has taken thousands of PWDs under its wings, particularly in the area of entrepreneurship and digital training.
But a constant struggle for the foundation is wiping the slate clean when it comes to changing the narrative regarding PWDs, particularly their capabilities. Many employers do not consider them when starting up an organisation. This is evident in how buildings are constructed, like in the case of Dirisu's first-hand experience that prompted her to establish Peniel.
HumAngle has reported how inaccessible workplace environments, absence of aid devices, and discrimination have continued to widen the disability employment rate in Nigeria. And this is despite the Disability Act passed in 2018, which "provides for the full integration of persons with disabilities into the society and establishes the National Commission for Persons with Disabilities and vests the Commission with the responsibilities for their education, health care, social, economic and civil rights."
Again, according to the Act, all public organisations must reserve at least five per cent of employment opportunities for citizens with disabilities.
"Just like any organisation, there are challenges, but we don't focus our energy on them. We take it as a stepping stone to the next level," Dirisu emphasised.
More stories
Saaba Akintola, an amputee and a final year Dentistry student from the University of Ibadan, Southwest Nigeria, joined Peniel Foundation as a mentee in Aug. 2021. "I have grown a lot since then," she said during her graduation speech this year.
"One of the few things I learned was how to write my CV in a professional way and also how to develop myself. When I started, I had an idea of what I wanted to do in the next five years, but I was not sure how to go about it. But through the mentorship and coaching classes, I had a definite plan for myself and what I would like my future to look like. I also gained a life-long mentor."
Far away in Zimbabwe, Southern Africa, Ian Takun was unclear whether to start an organisation to cater to the rights of persons with disabilities or work with other people or small organisations. He was at a crossroads.
But after benefitting from Peniel's mentorship programme, he realised that the best way for him to address these issues was to start an organisation – a youth-led foundation that caters for people living with disabilities in Zimbabwe. "Currently, we are also trying to provide mentorship for young people living with disabilities," he said.
His experience was entirely different from what Precious Gift faced years before. It was one thing to live with a disability and another to suffer from "a very low self-esteem that didn't allow me actualise my dreams."
Gift had always been the type of person who lived in a shell. "To come out and say it and do it has been a big problem," she confessed, referring to her goals. But this was before she sat under a mentor. Now she is able to give her goals priority. More than that, "I have achieved them as a person living with a disability. Now I am a better person. Now I can educate, now I can impact."
These are the kind of stories that motivate Peniel's mentors, drawn from across the world and from diverse fields of endeavour. One example is Theodora Belema, Executive Personal Assistant at Adeola & Adeola's Chambers in Abuja.
"The opportunity to share my experience with someone else in a bid to help that person grow is truly rewarding," she said. "We encourage mentees to set goals and work towards achieving them with specific timelines. In this way, the experience would be worthwhile and the mentor also gets to learn from the mentee."
Many of these mentor/mentee relationships do not end with the programme. Maimuma Sanda, for instance, who took Ayobami, a PWD, under her wings, pointed out that it is a relationship she would like to keep. And she has valid reasons – "Ayobami is a go-getter who tries to achieve all she sets her heart to. She has big dreams and I know that with time she is going to achieve them," Sanda said.
The success stories are unending. Mentees who have passed through Peniel Foundation are in different parts of the world pursuing their dreams – like Kemi who is at a fellowship in India, Kate who got a job with the government in Kenya, and many others.
For this reason, a partner of the foundation, Oladapo Lawson, CEO, Stephen Lawson Ltd, who runs what he called a small boutique-type consulting firm in the UK, said at the 2022 graduation that he is willing to offer mentorship and financial support to the project.
"One of the reasons I feel very close to this is because I have always known that we have a fairly unequal society and also not mindful of the fact. And for this reason, I have always felt that the disadvantage is almost immediate when you are born with or have a disability. You are not starting on the same bloc as everyone else, and this is not unique to Nigeria but the rest of the world.
"I'm particularly interested and encouraged by the mentorship programme and think it is an absolute no-brainer. Persons with or without disabilities need mentors in their lives. I have had mentors in my life and it would have been insignificant without them. They teach and guide you through, and especially in your chosen careers. It's a part I would want to participate in actively," Lawson said.
---
This story was produced in partnership with Nigeria Health Watch through the Solutions Journalism Network, a nonprofit organisation dedicated to rigorous and compelling reporting about responses to social problems.
---
Support Our Journalism
There are millions of ordinary people affected by conflict in Africa whose stories are missing in the mainstream media. HumAngle is determined to tell those challenging and under-reported stories, hoping that the people impacted by these conflicts will find the safety and security they deserve.
To ensure that we continue to provide public service coverage, we have a small favour to ask you. We want you to be part of our journalistic endeavour by contributing a token to us.
Your donation will further promote a robust, free, and independent media.
Donate Here