Features
News
Solutions & Development
A Kano Security Outfit Is Ridding Its Community Of Crime, Rehabilitating Delinquents
Saddened by the rise in criminality in Kano, Northwest Nigeria, one man started what would later become a security outfit that also rehabilitates and ensures the young get an education.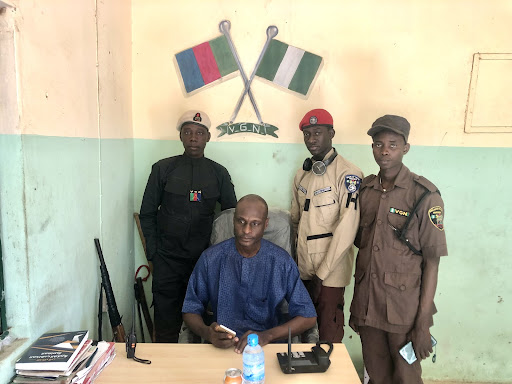 In 1995, when Muhammad A. Muhammad was in his teenage years, he witnessed a police raid on Rikwa Cemetery in Dala Local Government Area (LGA), Kano State, Northwest Nigeria. The burial ground, which is not far from the historic Goron Dutse, had become a haven for criminals and drug addicts.
The police personnel surrounded the cemetery and some advanced into the enclave. The criminals dispersed like rats coming out of their holes and many of them were apprehended. "There were some young girls' clothes and shoes in the hideouts," he recalled.
A criminal enclave in Rikwa cemetery. Credit: Aliyu/HumAngle
Muhammad, who was watching from behind, was astounded by the heroic efforts of the police. He approached them and said he aspired to be a security officer and that he could assist them in any way possible. They inspired him by saying security is everyone's business, words he was hearing for the first time then.
Taking the bull by the horn
Eager to actualize his dream even before he rounded off secondary school, Muhammad joined a local vigilante group in his area in 2000. Then, thuggery and gang rivalry was like an epidemic among the youths in his locality.
Rikwa cemetery used to be a haven for criminals in Goron Dutse. Credit: Aliyu/HumAngle
In 2019, when Muhammad was already a father and living in Yalwa, there were numerous reports of phone snatching, motorcycle thefts, robberies, and other minor crimes. "At the time, my neighbour's motorcycle was stolen," he explained. Then the thieves returned, and this time they broke into Muhammad's house and stole his motorcycle too. But Muhammad succeeded in getting it back. This was when he realised he could begin the fight against insecurity alone.
"I began moving around by myself in the middle of the night until there was some level of safety in the area. Before then, you couldn't park your motorcycle without worrying about it being unsafe or stolen," he said.
Later, a few of Muhammad's friends joined in the patrol. Months passed, and more people joined, until he had about 30 in less than two months.
"I approached one Alhaji Haruna. He gathered the community's elders, informed them about my activities, and they supported it," he explained.
Muhammad in his office. Credit: Aliyu/HumAngle
Currently, Yalwa Vigilante Group (YVG) has 158 members who volunteer their time and money to secure the neighbourhoods of Dala LGA.
"We only accept a member after we put him through rigorous drug tests and then teach him how to use weapons to protect himself," Muhammad explained.
His office is equipped with some of the things a local security outfit needs. There are cutlasses and locally made guns, as well as some walkie-talkies, torchlights, and a first aid kit.
Some of the weapons Yalwa Vigilante Group use during operation. Credit: Aliyu/HumAngle
First Outing
When a lockdown was imposed in Nigeria to combat the spread of Covid-19, all schools in Kano State were closed and students were no longer attending classes. This was when Goron Dutse Primary School became the new haven for criminals, with classes and offices converted into their bedrooms.
"There were hundreds of them in the school. Classes were transformed into kitchens complete with stoves and gas cookers. The addicts were smoking and using drugs, and they brought prostitutes to sleep with at night," Muhammad said.
Yelwa Primary School. Credit: Aliyu/HumAngle
The school's headmaster was completely helpless prior to the arrival of Muhammad's team. They stormed the school, and when the criminals saw them, they fled in all directions. Some of them were apprehended and turned over to the police.
Everyone in the neighbourhood applauded the group's brave act and the headmaster asked Muhammad to establish a security post in the school. He offered the team a single block in the premises with two offices.
"That's when we began formal registration for a formally recognised vigilante group. We began at the local level and worked our way up to the state level," said Hamza Mansur, the group's deputy commander.
Muhammad has since led YVG on different successful operations in Dala, rated as the most populated local government in Kano State. He collaborates with nearby police stations, particularly the Jakara Police Station, in subduing criminals. Most of the time, he arrests them and turns them over to the police, who then take them to court.
However, there are some issues.
"Some of the parents of arrested criminals make our jobs difficult at times because they are our neighbours and friends," Mansur explained.
Other parents, however, send their adolescent children to join the security outfit. This was what happened to Nasir Sabo, a 20-year-old who was encouraged by his father to join Muhammad's team.
"I saw what they [YVG] were doing and thought I could help my community by joining them," Sabo explained. He goes to school in the morning and works with the group at night. This, he does, to avoid becoming one of society's "bad apples."
Nasir Sabo was encouraged by his father to join the local security outfit. Credit: Aliyu/HumAngle
Muhammad has quickly become some kind of motivator for others. "I tell people that all they have to do is be brave and dedicated, and God will help them. You have nothing to fear from any criminal because he can do nothing to you. That's how a small group of us were able to disperse hundreds of criminals," he explained.
Beyond arrests
Muhammad realised that arresting criminals or drug addicts and turning them over to the police is not always the best solution. He reasoned that rehabilitating some of them would be preferable to imprisonment.
"I can show you the names of 12 addicts whom we rehabilitated, here in my record. We sent some of them to school, and some of them have begun to learn a trade," he explained.
Yahaya Labaran, also known as Amir, is 16. Labaran Yahaya, his father, took him to the Yelwa Vigilante office because "he had started joining peers to commit petty crimes and take hard drugs." Amir spent two months in the hands of the vigilante, undergoing rehabilitation before he was taken to school.
Amir was rehabilitated before being sent to school. Credit: Aliyu/HumAngle
HumAngle spoke with Amir, who stated that he is currently feeling better than he was previously. He aspires to further his education and give back to his community. "I can be a soldier, and that's exactly what I want to be. I want to protect my people from kidnappers and Boko Haram terrorists," he explained.
Amir now joins his father in making "kufta" – royal clothes.
Amir joins his father to make kufta after the rehabilitation. Credit: Aliyu/HumAngle
Marakisiyya Ibrahim, a mother of six children, also brought her son Umar Ahmad, who was "stubborn and engaged in stealing people's properties." His father is elderly and was unable to control him, and the youngster was far too powerful for his mother to handle.
"The rehabilitation was a complete success. Everyone is now content with his situation. His friends used to influence his behaviour, but that is no longer the case, thanks to the vigilante group," she said.
Marakisiyya Ibrahim took her son for rehabilitation at the YVG. Credit: Aliyu/HumAngle.
Ahmad was with the vigilante for six months before being taken to a carpenter to learn a trade and then a secondary school to continue his education. "He was taken to Yelwa Secondary School, where he attends on a daily basis," she added.
Ahmad told HumAngle that he is pleased with the new person he is becoming. "I know I have a future now," he said. "People no longer look down on me, and three people have said they would take me to the market. However, due to the school schedule, I prefer learning carpentry."
"There is nothing magical about our rehabilitation procedure," Muhammad explained. "We only try to ensure that addicts do not have access to the drugs they are using or peers who can influence them."
Those under the rehabilitation programme spend their days and sometimes sleep at the vigilante office, but "even after they are released, we make sure that we have somebody who takes care of them until we are sure they are not going back," he said.
The security group does not only help addicts get an education, they also assist children whose parents are unable to pay their school fees. They enrolled 24 children into primary school, 13 into secondary school, and three students were supported to get admission into a higher institution.
Ashiru Kabiru's parents were unable to take him to school, so YVG took him to Yelwa Primary School.
YVG didn't stop at that. Entering their office, you would be looking straight at the picture of a missing girl posted on the bulletin board. This is another angle the outfit focuses on – they help parents locate their missing children.
"Whenever they notify us of their missing children, we assist them by making an announcement through various vigilante offices in the local government area," Muhammad said.
"When we find a child, we immediately hand him over to a ward chief, who either finds his parents or takes him to the police station."
Not always smooth sailing
Every night on his way home, Mallam Dan Sadi passes through Jakara and Goron Dutse. Although security has improved in areas where local security groups operate, this does not apply everywhere, he told HumAngle.
"Sometimes you think everything is over, and then you hear about it somewhere else. They don't really get rid of the criminals; they just dislocate them," he explained.
Muhammad had pointed out that a road leading to the Kuka-Bulukiya cemetery in Dala used to be a no-go area for people late at night because criminals would stop anyone passing by and, either snatch their phones, or rob them of other belongings.
"However, we were successful in driving them away. You can now move around freely there, even in the middle of the night," he said.
But Usman Abba who lives near the Kuka-Bulukiya cemetery has a contrary view. Although he admits that crimes such as phone snatching and motorcycle robberies have decreased, criminals now move in groups of hundreds, and if people flee, they take their property.
"I saw them approaching two weeks ago while I was sitting. Individuals began fleeing for their lives. It is in this type of situation that criminals now take your possessions," he said.
---
Support Our Journalism
There are millions of ordinary people affected by conflict in Africa whose stories are missing in the mainstream media. HumAngle is determined to tell those challenging and under-reported stories, hoping that the people impacted by these conflicts will find the safety and security they deserve.
To ensure that we continue to provide public service coverage, we have a small favour to ask you. We want you to be part of our journalistic endeavour by contributing a token to us.
Your donation will further promote a robust, free, and independent media.
Donate Here