Armed Violence
Features
A Day In The Lives Of Zamfara Residents Forced To Labour For Terrorists
In August, terrorists conscripted 240 residents as their farmhands from 12 communities in Bukuyum LGA of the northwestern Nigeria state. Here, some of them talk about their experiences.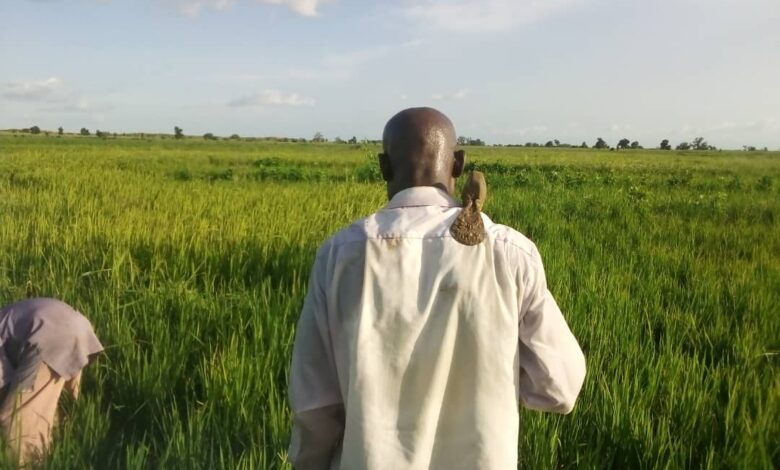 Shehu Mamman's heart was so heavy that when he returned home, he had to tell his wife, Hafsi, everything – the council of elders (of Dargaje village in Bukuyum Local Government Area of Zamfara State, Northwest Nigeria) had come to a decision; He was to be one of 40 men selected to work for a group of terrorists, led by the notorious Dogo Gudale.
On Aug. 28, HumAngle reported how Gudale, a terror leader in Zamfara, sent messages to 12 communities in Bukuyum LGA and demanded for a total of 240 farmhands. The instruction was clear – it was either each settlement complied, or there would be a heavy price to pay. The people chose the former.
To obey or not to obey
Hafsi was preparing dinner when Mamman told her the grave news. "Who is that enemy that included you in the list? Was it Gudale himself or the king?" She asked angrily.
Mamman, who was making his way back from his own farm when he was informed, tried to calm her down. He explained that it was a unanimous decision by the community's council of elders.
Of course, Hafsi could neither eat nor sleep that night. Tears flowed freely down her cheeks as she desperately weighed the chances of her husband's return alive.
"I was completely shattered when he told me that terrorists invited them for forced labour at their den. I suffered the agony of all sorts of uncertainties throughout that Friday night untill Saturday morning when he was preparing to leave me and go to the terrorists' farm," Hafsi told HumAngle.
"I cried and tried to stop him but his selection was already made along with my elder brother, Garba. They were to go and I had to endure and resort to prayer."
There is more. How could she explain to their two children the source of her grief? "So they joined me in the room throughout that shocking night. What a country whose leaders cannot stop terrorists from denying us our political right to live in peace," Hafsi concluded.
They were not alone. Another resident of Dargaje village, Husaini Gizago, was also chosen. He was to work at the terrorists' maize farm in Mashagodo.
But unlike Mamman, Gizago waited until the day of his departure to break the sad news to his three wives. Now that was where the challenge began. The women held onto him and insisted he must not leave.
"I insisted that if I refused, the gang of terrorists would visit our village and terrorise us to finish. So one of them said she would have to follow me to see for herself," Gizago said.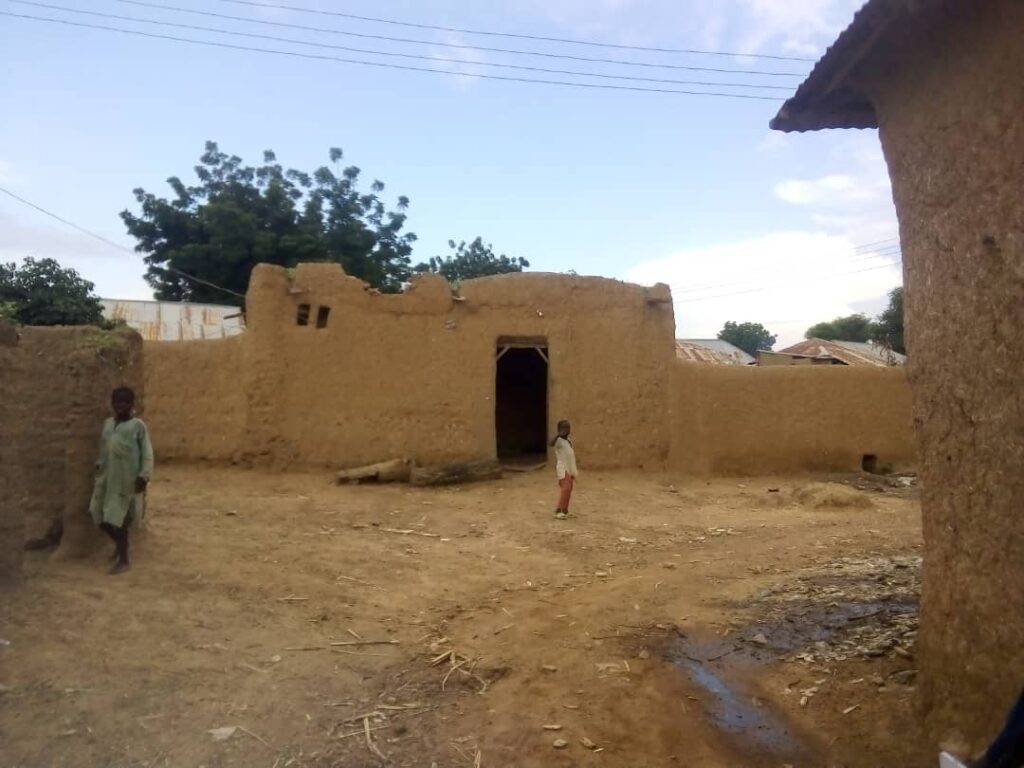 Terror personified
Gudale, 37, is a notorious terror leader suspected to operate from Fasagora forest of Bukuyum LGA of the state. A kidnap victim, Shafiu Lauwali, told HumAngle that Gudale and Ali Mai-Sara's militia are up to 1,300 men strong at their camp.
"Most of them are young recruits, trained teenagers with their sub-group leaders led by his [Gudale] top radically trained loyalists, such as Ali Mai-Sara, Manjagara, Bello Janbiri," Lauwali said.
Are the Nigerian police aware of these developments? What is the Zamfara State Police Command doing about the use of residents for forced labour by terrorists? When HumAngle's reporter contacted the Police Public Relations Officer (PPRO) of the Zamfara State Police Command, Mohammed Shehu, he was unable to get any response to these questions.
On Feb. 26 this year, HumAngle reported Governor Nasir Elrufai of Kaduna State's allegation that a preliminary investigation linked some serving police and military officers to terrorists in parts of his state. But the Governor made it clear that the government was yet to have clear evidence to back the report. Kaduna and Zamfara are currently some of the most terrorised states in the northern region.
HumAngle also gathered that Gudale has lobbied and lured, and later resorted to forcing some residents to join his group.
Some village heads who craved anonymity pointed out that Gudale was passionate about exerting power and expanding his territory. To accomplish this, he sets about making communities ungovernable. Once, he contacted 16 villages under Kyaram Ward in Bukuyum LGA and demanded they pay homage to him, a move that was not as successful as he wanted.
Face-to-face with terror
The communities instructed to send representatives mainly as workers on the terrorists' farms include Dargaje, Mallamawa, Kura, Zara, Danzamau, Falali, Gidan-Dakarkari, Tashar-Taya, Fura-Girke, Kyaram, Fasagora, and Farnanawa. These are all in Kyaram, Zarumai and Gwashi/Adabka wards of Bukuyum LGA.
In the end, a total of 24o able-bodied men from 12 communities, set out to different farms located at Mashagodo and Fasagora. Others are in Gando forest area where the terrorists reside, HumAngle gathered. The farms belong to both Gudale and another terror leader known as Ali Mai-Sara.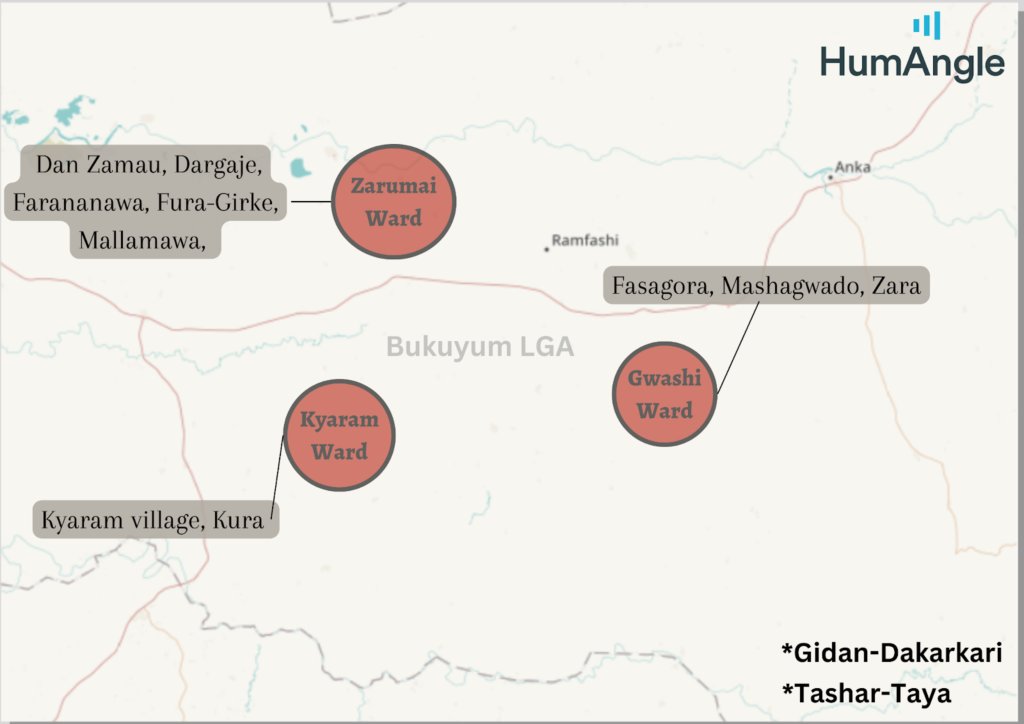 Summoned on Aug. 26, 2022, the workers were to arrive at their various locations on Aug. 27, the very next day. There, they were all to labour at gunpoint.
Before that, getting to the farm was a herculean task for Gizago. He arrived, tired to the bone. This was when he realised that trouble had only just begun. Five village heads were already in place to supervise them. From the head of Mashagodo, Gizago received a hoe and a portion of farmland to work on for that day.
"I was made to join others from Danzamau and Fura-Girke villages," he narrated. Some were assigned to harvest maize and millet while others from Danzamau were asked to take care of the beans farm.
Abdullahi Modi, from Danzamau, recalled how they were not given food to eat, not even water to drink, throughout their labour. Before he left home though, he had prepared for the worst – "I asked for forgiveness from my wives and children and waved them good-bye," he told HumAngle. "I did this in case it would be my last outing."
The village heads, who had divided the workers into groups, were handicapped and unable to lessen the suffering of their own people.
"The terrorists themselves were hanging around the trees and other hideouts guarding us while they held their guns. We worked from 10 a.m. to 6 p.m. without food to eat, or shade to rest," Modi added.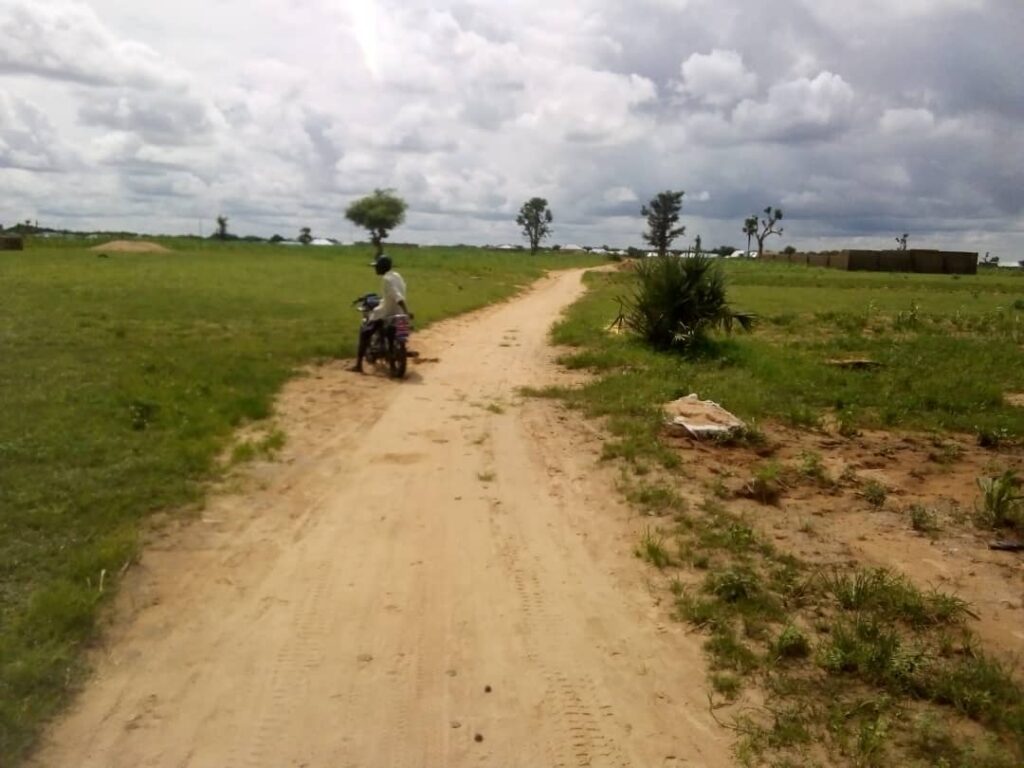 On his return home, Modi fell ill and had to be given intravenous therapy and some injections.
Others suffered too
Danda Baushi, 27, was selected to work for the terrorists a week to his wedding.
"I was expected to spray gramoxone herbicide across some shrubs and plantations. I had no idea how to handle these," he said. So, when a terrorist, gun in hand and a cigarette in the other, strolled by, Baushi dared to ask a question. He said he did not know the quantity of herbicides to apply. The terrorist shouted at him to find a way out of the problem by asking his fellow workers.
"Since that time, I can still hear the man's voice in my head," Baushi said.
There were also Malam Naziru from Dargaje and Dangara.
"It is easier to travel to Gusau from Anka twice by motorcycle than to go to the deadly terrorist camps," Dangara said. They trekked for about an hour because, at some point, they could not ride their motorcycle. Worse, the ground was swampy, so they had to pull off their shoes.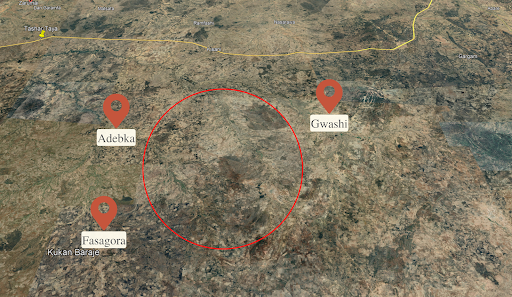 One of the farmers, Ummar, recalled the amount of willpower it took him to leave his three-month pregnant wife behind and risk never returning. "We couldn't eat and I kept asking myself, why me? Why Dargaje village?"
But the next morning, he and many others who were selected, rode motorcycles to Gurusu. Then from there to Ruggar-Baba, Tungar-Zabo, and later Mashagodo.
"We painfully took a rest there, and finally moved to the farm after covering over 47 kilometres," he added.
On their way, they reached a military checkpoint in Gwashi village. When the soldiers asked where they were heading to, the villagers told them their story.
"One of them shook his head, wished us a safe trip and said good luck."
By the time Ummar returned late that evening, his wife had miscarried due to intense fear. Her blood pressure had also run high. These are memories locals like him would not forget in a hurry. 
---
Support Our Journalism
There are millions of ordinary people affected by conflict in Africa whose stories are missing in the mainstream media. HumAngle is determined to tell those challenging and under-reported stories, hoping that the people impacted by these conflicts will find the safety and security they deserve.
To ensure that we continue to provide public service coverage, we have a small favour to ask you. We want you to be part of our journalistic endeavour by contributing a token to us.
Your donation will further promote a robust, free, and independent media.
Donate Here