Development
Features
News
A Bleak Future Awaits Abuja's Disabled Community After Fire Incident
People with disabilities at Karmajiji, Abuja, Northcentral Nigeria are struggling to live near-normal lives again after a fire outbreak displaced them. What are the authorities doing?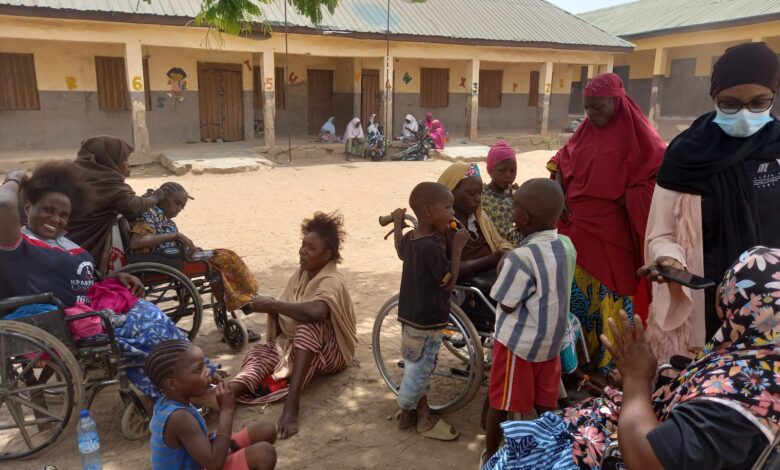 The woman frowns in frustration as she lifts her visibly numb legs onto a low stool. Once having to contend mainly with her disability, she now has more to worry about since a fire gutted the disabled persons' settlement in Karmajiji, a community in Nigeria's Federal Capital Territory (FCT), Abuja, Northcentral Nigeria.
This woman's name is Hafsah and she has not had a good sleep in the last one month. The reason is understandable. What passes as her home—a rust-coloured shack with corrugated roofing sheets—is now almost uninhabitable. A part of it, a bedroom and a tiny kitchen, came down in February after the fire incident.
Karmajiji is a community with rocky and unpaved roads, overlooking a Kaduna-Abuja rail line in the FCT. Known to most locals as Unguwar Guragu (loosely translated as a community of disabled people), the colony is a patch of tightly knit shanties of 520 people with different disabilities, standing in rows and only divided by streams of brackish sewage.
When a shrill cry reverberated on Wednesday, Feb. 9, the day of the fire incident, Hafsah was away to get some groceries from the local market about two miles away. Neighbours had hobbled around her house, banging on the front door to alert her of the blaze but there was no response. So they forced their way in.
The fire had started as a result of an electrical power surge and was further aided by very flimsy materials which the shacks were made of. Even when firefighters tried to put out the fire, accessibility became a hurdle. "There was nothing they could do other than instruct us to mix water and detergents-that could not effectively stop the blaze at once," explains Muhammad Suleiman, the colony's chief, who speaks emotionally of that day.
In six hours, the blaze had affected at least 30 households and businesses, according to the local chief. "But nobody died."
Life in limbo
For Hafsah, the fire did not only take away her sleep; it upended her life as some people who should have helped stole her property. She was barely scraping by with the little she made from her shop, selling food items and groceries. Now, everything has been lost and she is afraid of being unable to feed her children. At 35, she is a single mother of three children aged 18, 13, and 10, who shoulders all responsibilities having lost her husband eight years ago.
On the bare floor of her broken shack, one of her children sits with her legs stretched, toying with the hem of Hafsah's dress. In one corner lay possessions they were able to salvage after the fire — a pile of torn trousers, faded shirts, rumpled gowns, and whatnot. Yet, she dreams her children will have a better life, one without having to beg on Abuja's streets or highways.
"I don't like begging, I prefer to work for my money," she says, wearing a downhearted expression that occasionally transforms into a smile.
Begging, though prohibited, has become almost synonymous with people living with disabilities in Nigeria's capital city. Amid reforms, the Social Development Secretariat, the agency in-charge of vulnerable people, including underprivileged persons with disabilities, pushed on with aggressive policies, including rounding them up.
So, the government had gathered all people with disabilities on Abuja streets in 2009 to live in the colony with a promise to relocate them to a permanent site in Gwagwalada. Twelve years later, the promise is still a promise.
Because it is a temporary site, Mohammed Dantani, the colony's secretary says, it has given way to shacks being built in place of concrete buildings that can withstand disasters like fire and flooding. The recent fire is the largest ever recorded in the community.
Sa'adatu
Confined to her clogged wheelchair, Sa'adatu labours to reach the rubble that was once her home. Her stumps dangle over her wheelchair's seat as she mops beads of sweat around her neck. Nothing has quite shaken Sa'adatu as the fire incident that left a trail of misery and penury.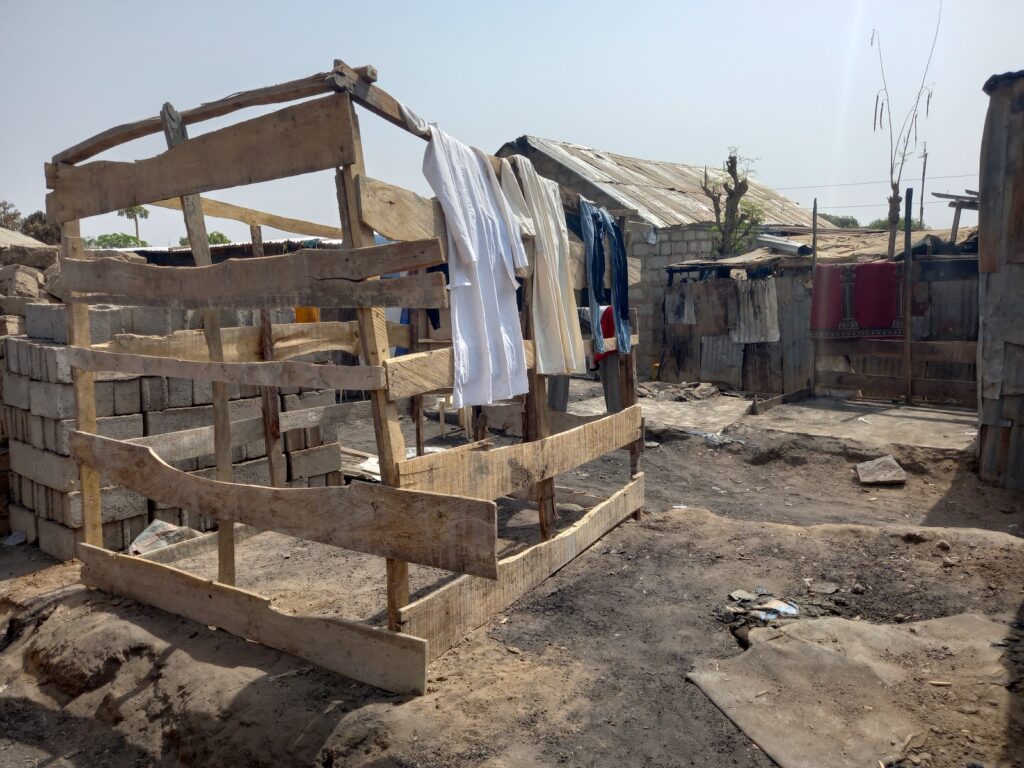 "We lost a lot of things during the outbreak; I can't even describe the nature of the loss because we lost everything. Our clothes, including those of our children, all our belongings and business," Sa'adatu says with teary eyes. "Right now, we don't even have what to wear. We are pleading for help."
The blackened and debris-strewn site of her home has become a scene of tragedy and family separation. The little she has now is in the relationships she has cultivated over a decade ago in the camp. The community supports her family with all it can: Sa'adatu and her children squat with a neighbour just a few houses away from their collapsed home. Her husband, Bashir, sleeps in a nearby mosque and, sometimes, in the open corridor, due to heat.
Even before the fire, life was never easy. Bashir, also confined to a wheelchair, has haemorrhoids, a medical condition that causes swollen veins in the lower part of the anus and rectum. Haemorrhoids can occur after cases of chronic diarrhoea or spending too much time in a seated position.
This condition has prevented Bashir from working for a long time except when there is an opportunity for manual labour. For five hours of back-breaking work, he earns only seven hundred naira which "barely lasts a day."
Sa'adatu also owned a kiosk full of groceries that was looted during the fire. A sudden loss of financial means has left her unable to afford the capital she needs to restart her business. Today, her family of five live off the goodwill of others.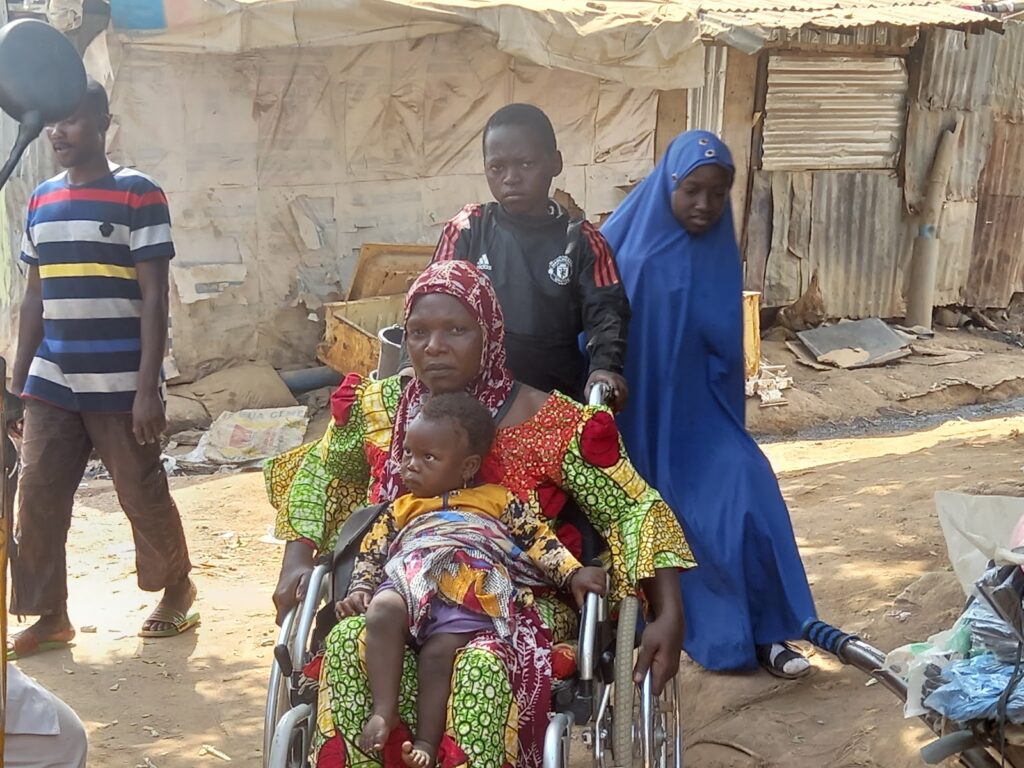 For Sa'adatu, the sharp pain of reality and the untempered anger it evokes cuts like stab wounds. Had her home been made of materials more sophisticated than wood and corrugated iron, it would probably have withstood the fire. Had her shop not been sacked by looters disguised as a rescue group in the course of the fire, her source of sustenance would probably still be maintained. Had Nigeria been able to provide a proper social safety net for vulnerable groups struggling like her, she and her children would probably not still be destitute more than a month after the fire.
Up the road, Musa, 36, is in a similar position: weeks after losing part of his game shop to the fire, he barely survives.
Before the fire, there has been a lingering heaviness, exhaustion, humiliation to what passes for everyday life in the camp, and now, a dread of what new or more profound crisis tomorrow will bring.
In Nigeria, persons with disabilities are more likely to experience extreme poverty than those without a disability, according to the World Bank.
Long walk to recovery
Sa'adatu has no desire to go anywhere else: she has lived all her life in the colony, and she wants to continue, even though she has no idea what the future holds.
"If I said I have someone to support me," she says, "I would be lying."
If she can rebuild her house, she wants a better structure that can be shielded from fire. But how she will achieve this is unclear. No government aid has rolled in after the incident.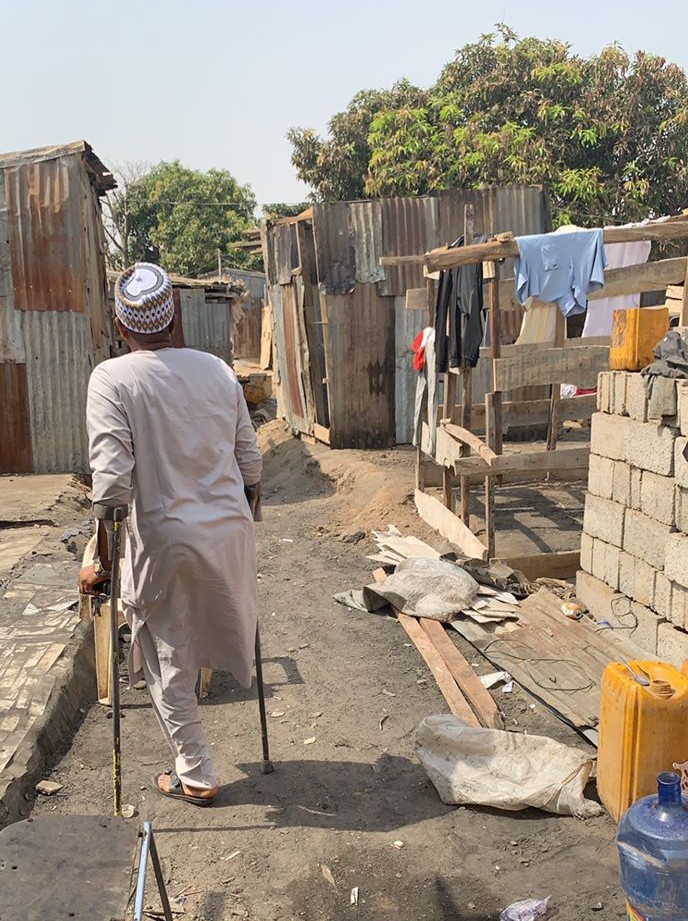 Many had hoped that the Social Development Secretariat would take a leading role in the community's recovery. When letters were written to the Secretariat, the department did not provide resources to set up shelters, provide food or any emergent care. Neither did they attempt to initiate any response afterwards.
Amar Sani, Director of Social Welfare Services at the SDS claims such letters are usually addressed to the Ministry of State, FCT before it is referred to the SDS, and so can be lost in the process.
Lack of government support means pressure is on locals to lead the response themselves. They have to figure out how to get resources and what processes to be put in place to initiate long-term recovery. But again, long-term recovery equates having equal opportunities and building permanent homes with infrastructural development such as good linking roads, sanitary facilities, and evacuation routes.
"Our major problem is houses, we need our houses to be constructed as soon as possible so we can also feel like Nigerians, feel like citizens. The houses we are staying in now are not conducive for us, especially when it is raining or hot," Dantani says.
"The government is trying but we need them to do better, we need houses to stay in, which is the most important. We need to feel at home.
"They promised to build our houses in Gwagwalada. We will appreciate it if they can fulfil that promise. It doesn't even have to be all at once, they can start with even five so we can move back then subsequently finish all."
On the relocation, the social development's director of social welfare says the government is on top of its game, having approved 20 hectares of land for the development of a permanent settlement in Gwagwalada. But the process is being stalled by allocation issues in the area, Sani explains.
"There hasn't been proper planning in the area and the Federal Capital Territory Administration [FCTA] is doing something about it," he claims. "Once it is rectified, the reparations made available will be put to use."
But development and social inclusion experts say this shows the government's failure to keep promises of maintaining the dignity of people with disabilities and providing social services under international law. Since 2007, when Nigeria ratified the United Nations Treaty on the Rights and Dignity of Persons with Disabilities, not much has been done. Even with the ratification of the Discrimination Against Persons with Disabilities (Prohibition) Act 2018 in January 2019, implementation is yet to materialise in the area of social inclusion.
The pervasive lack of visibility for people with disabilities in Nigeria is one of the greatest challenges to better serve them, especially when it comes to noting their needs, says Noel Balogun, who has worked on inclusion programmes for the colony with GRID Initiative, a nonprofit advocating disability inclusion in the country.
"People with disabilities have specific needs. They are often seen as an afterthought. This is wrong," he says. "Those people who are forcibly displaced need support to be relocated to a safe place where they can live in security and dignity."
---
Support Our Journalism
There are millions of ordinary people affected by conflict in Africa whose stories are missing in the mainstream media. HumAngle is determined to tell those challenging and under-reported stories, hoping that the people impacted by these conflicts will find the safety and security they deserve.
To ensure that we continue to provide public service coverage, we have a small favour to ask you. We want you to be part of our journalistic endeavour by contributing a token to us.
Your donation will further promote a robust, free, and independent media.
Donate Here