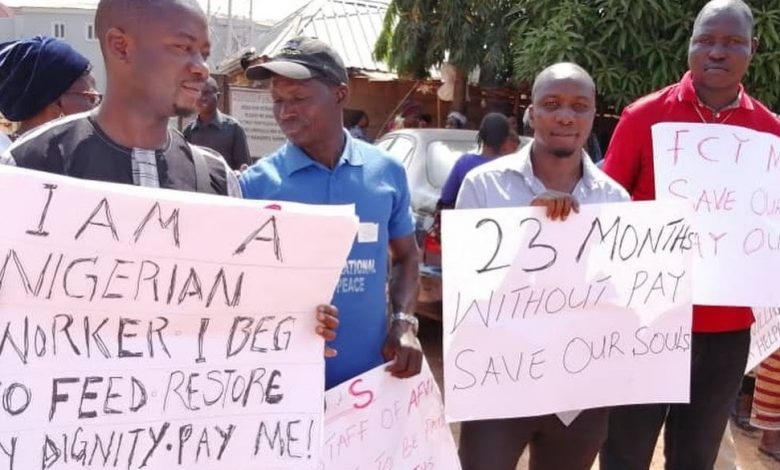 For over three months, Bewarang Joshua has been away from his family in Keffi, Nasarawa State.
He wanders around Abuja, temporarily squatting with friends and living on handouts. Whenever he gets a sizable amount of money, he sends some back home through neighbours.
The 40-year-old father of three is a maintenance officer with Abuja Film Village, where he has been working since 2009. He has, however, not been paid his salary since 2018. As a result, he has been living from hand-to-mouth and unable to cater to his family.
He said that he stayed back in Abuja in February before movements across states were restricted due to the COVID-19 pandemic for two reasons.
First, he did not have the means to constantly transport himself to and back from work. Second, and more importantly, he could not imagine going home empty-handed and not being able to fulfil his family obligations.
"I have nothing to give them," he said.
"I just hang around with friends. In fact, someone I know promised he would help with some money to buy food in the house on Monday (but) I have not heard from him. I don't know how to even call him.
"Those who are receiving their salaries on a monthly basis are crying during this period how much more we, who have not been paid for the past two years and some months?" Joshua asked.
In the first year during which he did not receive salaries, Joshua struggled to make sure he paid his children's school fees but now, there is no magic he can perform to carry out the responsibility. His wife makes some money from selling kunun zaki, a local beverage prepared from millet and spices, but it is not enough to keep the children in school.
At the end of April it was 28 months since Joshua and 33 other employees of Abuja Film Village International (AFVI) last received their salaries. The agency, a product of public private partnership, was set up in 2007 by the FCT Administration, towards improving the film and entertainment industry and attracting investors and tourists to the country. It is one of the subsidiaries of Abuja Investments Company Ltd, an investment firm owned by the Federal Capital Development Authority (FCDA).
Death of a leader
Despite facing great financial hardships, many of the workers have continued to work and keep the office open for business. They report based on a roster to reduce how much they spend coming to work regularly. But some have left, including three who resigned because of the hardship.
The founding Managing Director, Segun Oyekunle, died in March as a result of high blood pressure, stroke, and inadequate medical attention, issues regarded by his colleagues to associated with the challenges at the workplace.
Joshua, who was close to Oyekunle, said he (managing director) was severely affected by the crisis and could only pay for his treatment through donations from friends and family.
He could not afford the kind of life he was accustomed to but was, nonetheless, generous to a fault, Joshua added.
"I was always with him at the office. Except during the weekends, his wife would sometimes bring food to him; he would take some and give me and any other person around the rest.
"That was one of the reasons I always made myself available because I knew, anyhow, I would get food to eat," he said.
HumAngle learnt that Badewa Adedugbe, the General Manager and second most senior officer, is acting as the Managing Director of the agency. However, FCTA has yet to issue a statement about Oyekunle's death or his replacement.
Hanging in the balance
Staff of Abuja Film Village wonder why they are subjected to the hardships they are facing and say if their services are no longer needed, they should be paid off so that they can re-order their lives.
John Adeyemi, a production manager at the agency, said the FCT Minister, Malam Muhammad Bello, had some reservations about the AFVI when he assumed office and complained that it had neither moved to its permanent site nor attracting enough investments.
"But these are issues at the management level, not with the staff," Adeyemi said, adding: "They never called us to say that because of so and so issue they can no longer pay."
He spoke of various challenges faced by some of his colleagues, especially lower-level employees.
One of them, Sunday, was confined to a wheelchair and had to be relocated to his village in Agatu, Benue State, after his landlord ejected him. No one has heard from him since then.
Another employee was ejected two weeks after his wife was delivered of a set of twins. Frustrated, the wife also abandoned him, one of the babies died and the father had to leave Abuja, Adeyemi said.
Adeyemi said he also had his own problems, including undergoing two surgeries between 2017 and 2018.
He said he had to beg people for money to pay for the medical procedures and had not been able to pay back, adding that since he could not pay back, he had found it difficult to get more loans.
Adeyemi also said he had not been able to pay his house rent for two years and as a result slept with "one eye open", expecting his landlord would lose his patience anytime.
"So even if they say 28 months is a huge sum of money, to some of us it is not because they've put us in a mess," he said.
Adeyemi has three children, one adopted from his late uncle's family. Because he is no longer able to afford school fees in Abuja, he sent two to his hometown in the southwest, where public schools are much cheaper and less strict about payment of fees.
He said because of the COVID-19 crisis, the FCT Administration used one of the halls belonging to the Film Village as a storehouse for palliatives.
"The items are still there, wasting. They did not share, and we the staff are hungry. They could not even say, 'You people have not been paid in 28 months, pick something'.
"I see this as injustice and that is why we came out to cry for Nigeria and the international community to help us.
"We don't know our offence. Or is it an offence to take a job when they offer you? We went through interviews and screening before we got this job," Adeyemi said.
Budgeted, approved … but where is the money?
Documents sighted by HumAngle show that in 2012, 2013, 2014, 2017 and 2018, amounts ranging between N188 million and N250 million were approved as part of the FCT budget for the "capitalisation of Abuja Film Village". The budget item is often part of the Local Grants and Contributions Sector.
It is estimated that the wage bill of the agency, covering all 34 employees, is a little over N72 million annually. This means they are owed a minimum of N168 million in arrears.
"Only God knows what they did with our budget," one of the workers said.
Out of desperation, Joshua said that they would not mind if the FCT administration decided to pay them for one year.
When HumAngle contacted Abubakar Sani, Special Adviser on Media to the FCT Minister, he said the Abuja Investments Company was in better positioned to respond to questions on the issue.
However, Japhet Owraigbo, the investment company's Senior Vice-President on Subsidiaries, who overlooks the Film Village, refused to comment on the development in a phone conversation because he could not "just give information on the air" without knowing who he was talking with.
Death of a wife
The demise of the managing director and that of a child are not the only deaths that have struck the families of staff of Abuja Film Village.
James Gwatana, one of the agency's drivers, lost his wife, Roseline, after a brief illness in October, 2018, because he could not afford to take her to hospital.
"I didn't have money to even treat myself," he said, adding: "If I had money, I should have taken her to a nearby clinic or a hospital but there was no money. I lost her to malaria."
Before his wife's death, Gwatana suffered an injury to his spinal cord and has since not been able to move easily.
His legs are weak and he is unable to walk without the aid of a stick after undergoing a surgery. Meanwhile, he has not been able to afford the cost of physiotherapy.
Without parents to fend for them, his four children dropped out of school.
He said his eldest child, who already passed out of secondary school, and wanted to study mass communication, occasionally worried him about his career ambitions for which he could not offer logical response.
"I am just thinking of today and tomorrow, how to survive," he said.
The workers have exhausted options available to them by writing letters to the authorities, including President Muhammadu Buhari, on April 27, 2020.
They have also held peaceful demonstrations at various times. After one of such protests on February 24, 2020, the Permanent Secretary in the FCT Ministry, Chinyeaka Ohaa, promised that steps would be taken within 10 days to address their problems.
"Since then, till the last protest we did, nobody talked to us, nobody said anything.
"We are helpless. You can't go to court; you can't go to the media when you don't have money. Nobody is willing to help until now. The only thing we have been doing and we are still doing is to pray to God," Adeyemi said.
---
Support Our Journalism
There are millions of ordinary people affected by conflict in Africa whose stories are missing in the mainstream media. HumAngle is determined to tell those challenging and under-reported stories, hoping that the people impacted by these conflicts will find the safety and security they deserve.
To ensure that we continue to provide public service coverage, we have a small favour to ask you. We want you to be part of our journalistic endeavour by contributing a token to us.
Your donation will further promote a robust, free, and independent media.
Donate Here