Armed Violence
Features
News
250 Days After Kaduna Baptist School Abduction, Families, Students Pick Up Pieces
On July 5, 2021, terrorists kidnapped 121 students of Bethel Baptist High School in Kaduna, Northwest Nigeria. Released in batches, all except one have so far been set free.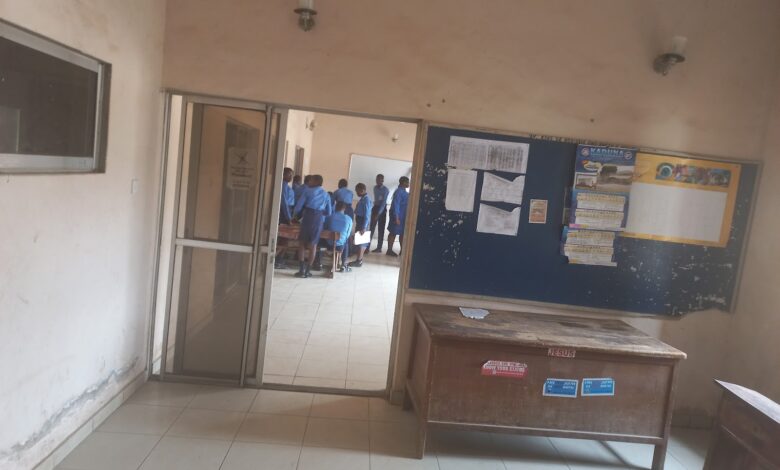 When the night buses drew up at a location far away from the now deserted Bethel Baptist High School at Maraban Damishi, Kaduna, Northwest Nigeria, Sunday Adamu Kunama felt like the loneliest man. And he had good reason.
Four years ago, Kunama's wife passed away, leaving behind four children – two girls and two boys now aged three, six, 10, and 16. Patsy, the eldest, was still 15 when she was kidnapped among 121 other students of Bethel Baptist High School located at the Chikun Local Government Area (LGA) on July 5, 2021.
With their mother gone, she had quickly become the mother figure in the family, until that fateful day in July when terrorists, commonly called bandits, whisked her away.
Celebration without the celebrant
On Patsy's birthday, Aug. 23, Kunama gathered children to celebrate. Although she was not present, he was adamant that they mark her special day.
"The children celebrated in tears. I have never seen that happen before," he tells HumAngle. "They were children who knew her very well. They cried freely, even with sweets in their mouths."
One of the greatest challenges Kunama, who is in his forties, had to face after his daughter's abduction was how to tell her siblings. So, following a sermon where he reminded them that God is able to keep the family in all situations and proved this after they lost their mother, he broke the news.
"They cried and asked where she was taken to and if they could go and bring her back. Then they asked what I was doing to bring her back.
"I told them it wasn't possible for me or them to bring her back, but we have a God who was with her and we would go to God together and cry to him and tell him what we needed."
The Kunamas then went to God in prayer. And while this was taking place within the family unit, the Baptist Conference President gathered the parents into a prayer group that united and helped them heal.
"We went to the school to pray. We raised an altar there. Parents still gather to pray till this day," Kunama says, a glint of pride in his eyes.
Paying ransom
Kunama recalls how parents put money together, some able to contribute more than others. Ultimately, the Baptist Conference gave the bulk of it, which, in total, ran into hundreds of millions of Naira.
"The kidnappers were wicked, heartless, and inhuman. They don't respect agreements. After they demand an amount and get it, they refuse to fulfil their end of the bargain," he tells HumAngle.
At the time his daughter was kidnapped, Kunama had ₦38,000 in his bank account and needed to pay an acceptance fee, which was about ₦46,000, for his master's degree programme at the University of Jos.
Released in batches
Two months after the sad incident, Kunama and other parents gathered to receive the children they had prayed and wept for, day and night. But suddenly their expectation turned to anxiety as a school official stepped forward and apologised for not informing them that only 32 children were released.
All around Kunama, families, mostly husbands and wives, clung to each other, drawing comfort as they wept. No one was allowed to approach the buses. So he prayed quietly. "I had no one but God," he says, a rueful smile playing at the corners of his lips. And at that exact moment, a hand waved at him from a window.
"I saw my hand in hers. I recognised that hand instantly.
"They were calling names one after the other, and when they did you approached, got your child and moved straight away to the hospital."
When his daughter stepped off the bus, she was very weak and could not walk. She spent a week at the hospital afterwards.
"Her doctor at Agape Specialist Hospital, Barnawa, Dr Yakubu, was a very kind man and he didn't collect a penny."
All the victims were subsequently taken to Jos, Plateau State, North-central Nigeria for trauma care, thanks to help from nongovernmental organisations.
Aftermath
Although Kunama tried as much as he could to not let his daughter relive her experiences, Patsy still talked about some heart-wrenching episodes. One was the seven to eight-hour-long trek from one camp to another in the forest. Also, when they went a day or two without eating food and depended on green leaves, those they considered non-poisonous, as well as any fruit that appeared edible.
"We are trusting God that the last child, Treasure, who is still with them, will come back home," Kunama says.
Reports said Treasure had refused to return when the children were set free. "We believe he was manipulated and indoctrinated."
Rev. Ishaya Jangado, the Baptist Conference President, likewise told HumAngle they are not giving up hope.
"We are still discussing with them [the terrorists] about the last child. The challenge we have with them is that they always ask for money. And what they ask for is a huge amount of money. We can't disclose the amount because it would be a challenge. But we have not yet agreed on a particular amount. We would keep negotiating with them until we agree," he explains.
But what if the student refuses to return? Jangado adds that "the boy is just 12 years old, so they can force him to return once we agree."
New environment
Far away from the location that still holds bad memories for the entire school, the students learn today in a different environment at the city's centre.
"They are jovial and happy and you won't know that something happened to them," Jangado says. "They are in a new environment and have gone through trauma healing through the help of NGOs. They are now facing their studies."
Achi Nathan, the school principal, agrees. He describes the relocation to a new site as an act of God. 
"We have been faring well and students have been responding positively. We have had different kinds of psychosocial support for both students and staff.
"By the grace of God, apart from the students who returned, we have had new enrolments and still expect more. We have over a hundred. Out of the 121 kidnapped, some have rounded off their education here."
Nathan adds that the students have been very resilient and quick to adapt. "They have moved on from that experience," he concludes.
Jangado recalls how, from the very first day the students were taken, Samuel Aruwan, the state commissioner for internal security and home affairs, visited the school and how the government promised to rescue the children but did not. Rather, it was through the efforts of the parents and school that the children returned.
However, "from time to time he [Aruwan] calls and knows how we are faring and we give him feedback," he says.
Telling their story
Jangado and the Baptist Conference are not letting accounts of the June 5, 2021 abduction be restricted merely to media reports and oral tradition. They are making moves to document the sad event in film as well as in book form.
"Two things inspired me to write a book and do a film," Jangado begins, his tone resolute. "In the history of our conference, nothing like this has ever happened. The Baptist Conference is about 45 years old, and when this happened we were in a state of confusion. God by his faithfulness and mercy made it possible for 120 out of 121 to be released. The world needs to know how God answers prayers."
The second reason is that Jangado has personally been following the antecedents, particularly of kidnapping in Nigeria.
"God has shown us mercy and we need to tell the world. If we don't put it in writing, the world would not know. Some of the children were 10 or nine when it happened; they may not know the truth of what happened. But when we document it, they would know that when they were in school at that age, there were people that God used to deliver them.
"When they read and watch, this would build up the children's faith and they would believe in this God that we are serving."
---
Support Our Journalism
There are millions of ordinary people affected by conflict in Africa whose stories are missing in the mainstream media. HumAngle is determined to tell those challenging and under-reported stories, hoping that the people impacted by these conflicts will find the safety and security they deserve.
To ensure that we continue to provide public service coverage, we have a small favour to ask you. We want you to be part of our journalistic endeavour by contributing a token to us.
Your donation will further promote a robust, free, and independent media.
Donate Here